Description
Our artisan Almond butter is made from the highest quality almond nuts. The almonds are roasted and blended in small batches to create a real depth of flavour and extra creaminess.
FREE UK Delivery for all orders over £30.
Ingredients: Almond nuts (100%).
Allergy Advice: Almond nuts. Not suitable for tree nut allergy sufferers. May contain traces of peanut.
Use and Storage: Once opened, consume within three months. Oil may naturally separate – just stir it back in. Store in a cool and dry place.
Health Benefits:
100% Natural
Gluten Free
Good Source of Protein & Fibre
No Added Nonsense
No Palm Oil
Product Application:
Enjoy this smooth Smooth 100% Pure Almond Butter on its own, stir it into porridge or add a spoonful to your smoothie.
Certifications:
Vegan & Kosher certified.
Nutrition
Per 100 g
Per 25 g
Energy
2500 kJ
597 kcal
625 kJ
149.3 kcal
Fat
52.8g
13.2g
Saturates
4.0g
1.0g
Carbohydrate
19.3g
3.95g
Sugars
4.9g
1.2g
Fibre
11.8g
3.0g
Protein
21.1g
5.5g
Salt
0.0g
0.0g
In our favourite recipes
Vegan almond pancakes
Finally it's pancake day!! We have got the tastiest recipe that takes pancake day to the next level with our smooth 100% almond butter topped with strawberries and maple syrup. With these mouth-watering Ingredients this will...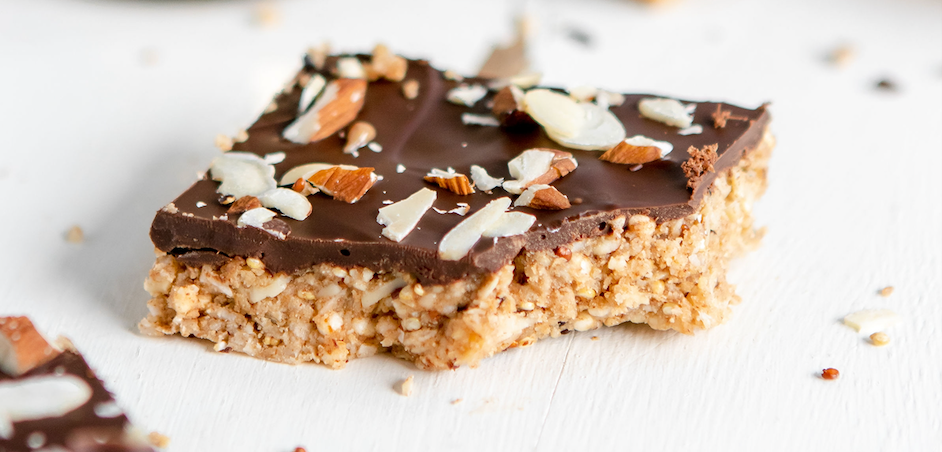 Almond butter snack bars
These almond butter snack bar's are to die for!! So yummy a great snack for when your on the go. Prep time is only 15 mins they do have the set for 2-3 hours but just...