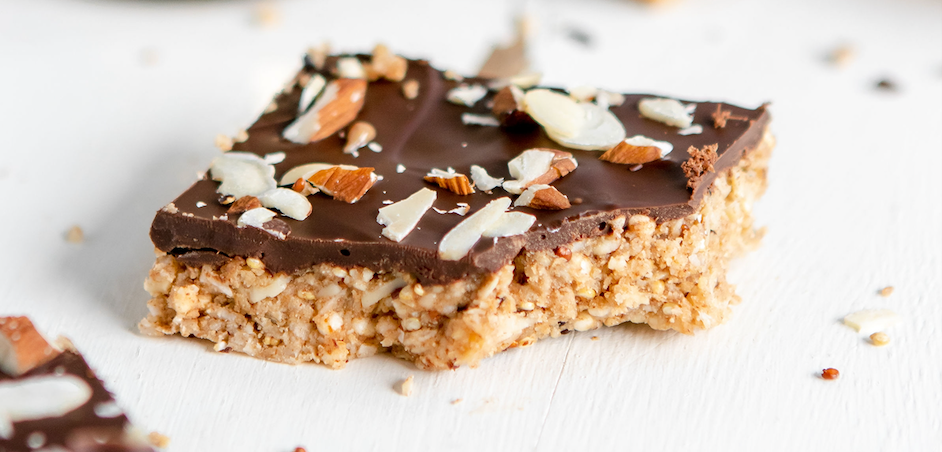 This recipe serves 10 portions so you could make one batch that would last all week, so when your super hungry you have something to just grab and go!
Directions
1. Line 18 cm baking pan with parchment paper.
2. In a bowl mix together the almond butter, honey and flaxseed meal.
3. Add oats, quinoa and chopped almonds and stir well until combined.
4. Spread the mixture into a prepared thin and press firmly to the bottom of the pan.
5. Add the chocolate and coconut oil into a microwave safe bowl and microwave the chocolate in 30 seconds intervals until fully melted.
6. Spread the melted chocolate over the bars and sprinkle with chopped almonds.
7. Let it rest covered in the fridge for 2-3 hours until the mixture has completely hardened.
8. Slice into even squares and serve.
Ingredients
120g almond butter (smooth)
60ml maple syrup or honey
100g oats
50g uncooked quinoa
50g chopped almonds
2 tbsp flaxseed meal
Topping:
150 grams dark chocolate
1 tbsp coconut oil
Try this extremely easy Almond butter snack bars recipe using our Smooth 100% Pure Almond Butter, and let us know what you think! Tag us in your delicious re-creation on Instagram or Facebook! Use hashtag #nutsaboutborna to be featured!
Subscribe to our newsletter and follow us on Instagram & Facebook for more healthy recipes and product updates!