Smooth 100% Pure Cashew Butter
SKU: 9T-2JVS-II5L Tags: Butter
Description
Our artisan Cashew butter is made from the highest quality cashew nuts. The cashews are roasted, then ground to produce a perfect texture.
FREE UK Delivery for all orders over £30.
Ingredients: Cashew nuts (100%).
Allergy Advice: Almond nuts. Not suitable for tree nut allergy sufferers. May contain traces of peanut.
Use and Storage: Once opened, consume within three months. Oil may naturally separate – just stir it back in. Store in a cool and dry place.
Health Benefits:
100% Natural
Gluten Free
Good Source of Protein & Fibre
No Added Nonsense
No Palm Oil
Product Application:
Enjoy this smooth 100% Pure Cashew Butter on its own, stir it into porridge or add a spoonful to your smoothie.
Certifications:
Vegan & Kosher certified.
Nutrition
Per 100 g
Per 25 g
Energy
2403 kJ
574 kcal
600.8 kJ
143.5 kcal
Fat
46.3g
11.6g
Saturates
9.2g
2.3g
Carbohydrate
32.7g
8.2g
Sugars
5.0g
1.3g
Fibre
3.0g
0.8g
Protein
15.3g
3.8g
Salt
0.0g
0.0g
In our favourite recipes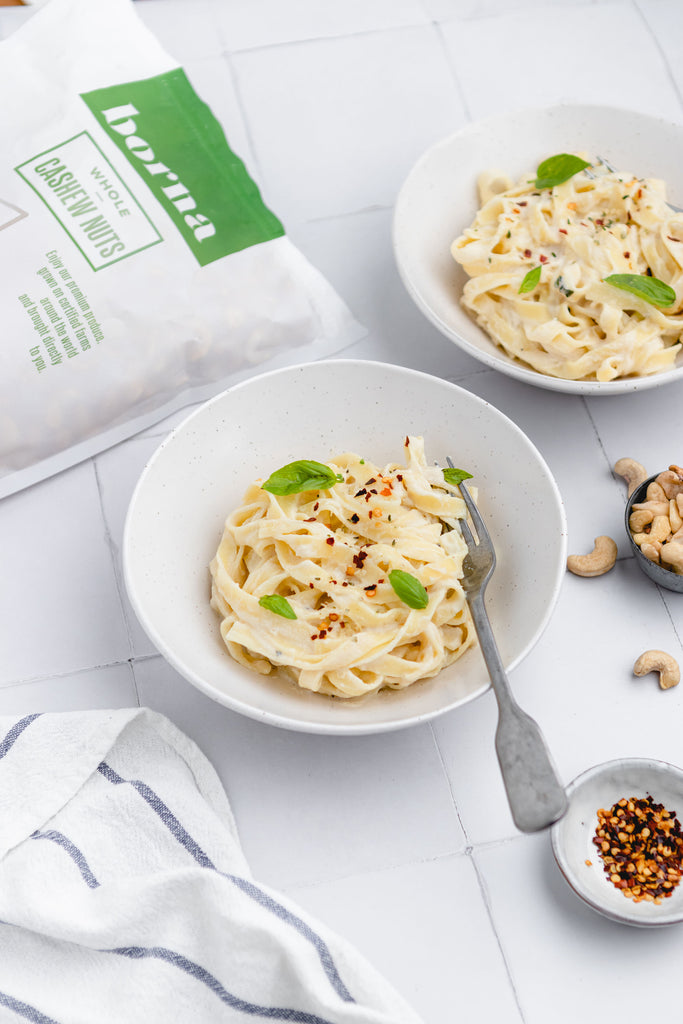 Vegan fettuccine alfredo with cashew sauce
This creamy pasta dish serves 2, with prep time of just 30 mins and total cooking time just 40 mins! This is perfect after a busy day working you want a nice quick dish this...