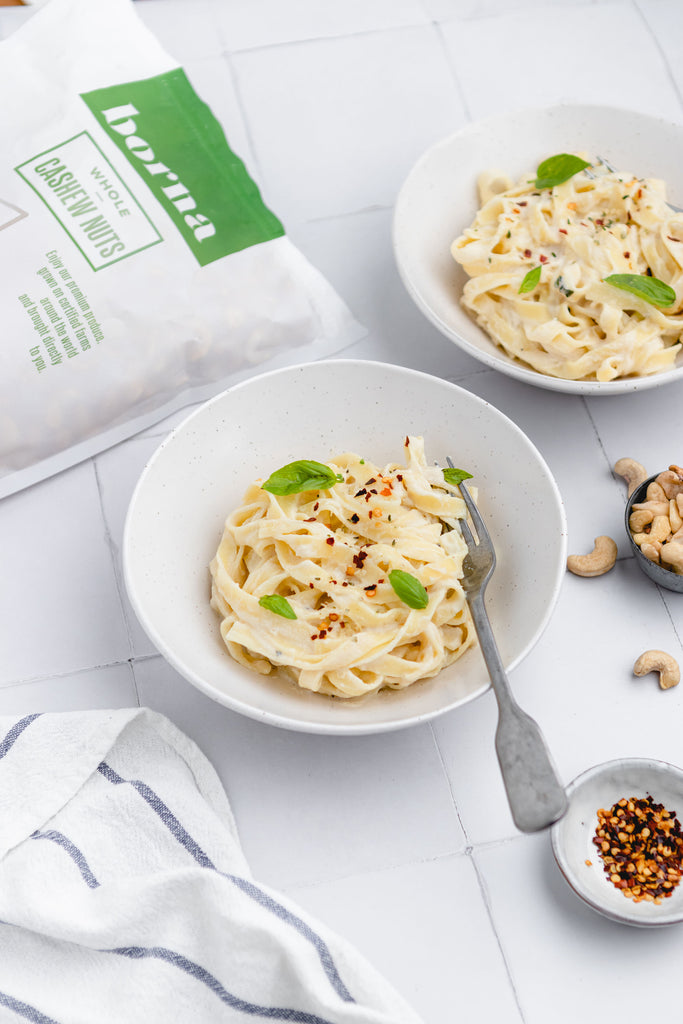 What is creamy, steamy, dreamy? This Vegan Fettuccine Alfredo with Cashew Sauce!
Directions
1. Place the cashew nuts into a small bowl and cover with boiling water. Let it soak for 2-3 hours or overnight.
2. In a large pan heat 1 tbsp of olive oil, add the chopped onion and garlic and sauté for 2-3 minutes. Transfer the onion mixture into the high-speed blender.
3. Drain the cashews and transfer them to a high-speed blender. Add the cashew butter (optional, lemon juice, milk, nutritional yeast, salt and pepper.
4. Blend until smooth and creamy.
5. Cook the pasta according to the package direction.
6. Pour the sauce over the cooked pasta and toss to coat. Sprinkle with fresh herbs (parsley, coriander) and season to taste with salt, pepper or chilli flakes.
Ingredients
250 g fettuccine or pasta of choice, for serving
80 g raw cashews
30g cashew butter
1 white onion, chopped
2 cloves garlic, minced
1 tbsp olive oil
200 ml unsweetened pistachio milk
1 tbsp nutritional yeast
1 tablespoon lemon juice
Salt, Pepper, Chili flakes to taste
Fresh herbs (parsley, coriander)
Try this extremely easy Vegan fettuccine alfredo with cashew sauce recipe using our Smooth 100% Pure Cashew Butter, and let us know what you think! Tag us in your delicious re-creation on Instagram or Facebook! Use hashtag #nutsaboutborna to be featured!
Subscribe to our newsletter and follow us on Instagram & Facebook for more healthy recipes and product updates!