Description
There are only three ingredients in this butter and they're a match made in heaven. Created with the finest lightly roasted pistachios and blended with raw coconuts, this is a concoction-gone-coco-nutty! It's naturally delicious and simply yummy.
FREE UK Delivery for all orders over £30.
Ingredients: Pistachios (64%), coconut cream (26%), coconut oil (10%).
Allergy Advice: Pistachio nuts. Not suitable for tree nut allergy sufferers. May contain traces of peanut.
Use and Storage: Once opened, consume within three months. Oil may naturally separate – just stir it back in. Store in a cool and dry place. Product may solidify - gentle warming will return it to a smooth consistency.
Benefits:
100% Natural
Gluten Free
High in Fibre
No Added Nonsense
No Palm oil
Product Application:
Enjoy on its own or spread on thinly sliced fruit, toast or even add it to porridge or muesli. Use it in both sweet and savoury dishes.
Certifications:
Vegan & Kosher certified, SIAL Paris, WFIA and Great Taste Award winner.
Nutrition
Per 100 g
Per 25 g
Energy
2605.3 kJ
631.6 kcal
651.3 kJ
157.9 kcal
Fat
62.4g
15.6g
Saturates
27.3g
6.8g
Carbohydrate
6.9g
1.7g
Sugars
5.3g
1.3g
Fibre
9.4g
2.4g
Protein
12.9g
3.2g
Salt
0.02g
0.0g
In our favourite recipes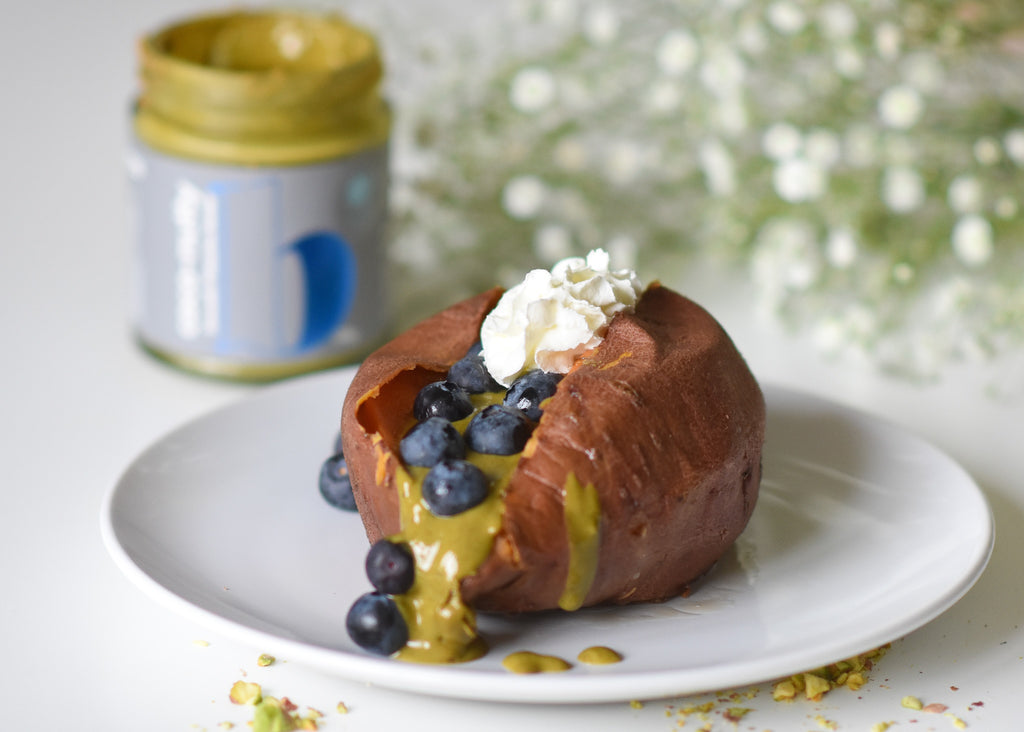 Blueberry Pistachio Stuffed Sweet Potato
We hear that sweet potatoes (unlike potatoes) count as one of your 5 (or rather 7) fruit & veg a day! It feels like cheating because they are so tasty! Therefore, this time we have...