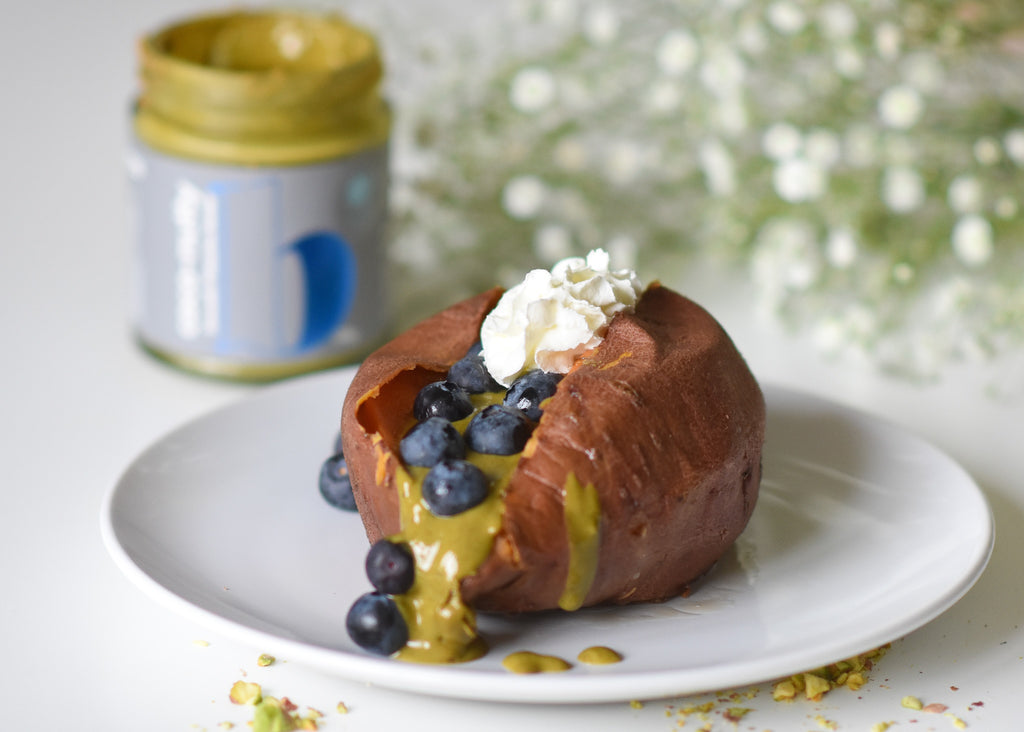 We hear that sweet potatoes (unlike potatoes) count as one of your 5 (or rather 7) fruit & veg a day! It feels like cheating because they are so tasty!
Therefore, this time we have a super delicious blueberry pistachio stuffed sweet potato recipe. These stuffed sweet potatoes are dairy free and gluten free, and vegan! They make great leftovers too, and we're a huge fan of leftovers!
Real food, comforting, filling… what more could you ask for!?
Serving: 2
Directions
Preheat the oven to 180C.
Cook your sweet potato for 30min or until well cooked.
Slice open your sweet potato and sprinkle with a little sea salt.
Drizzle the potato with 4 tbsp Coco-Nutty Pistachio Butter and add some blueberries on top.
Add a fifth teaspoon of pistachio butter because why not? And do not forget some vegan cream!
Ingredients
♥ small sweet potato
♥ 1/4 tsp sea salt
♥ 4 tbsp Coco-Nutty Pistachio Butter
♥ 4 tsp vegan butter
♥ 1/4 cup blueberries
♥ vegan cream
Try this extremely easy Blueberry Pistachio Stuffed Sweet Potato recipe using our Coco-Nutty Smooth Pistachio Butter, and let us know what you think! Tag us in your delicious re-creation on Instagram or Facebook! Use hashtag #nutsaboutborna to be featured!
Subscribe to our newsletter and follow us on Instagram & Facebook for more healthy recipes and product updates!