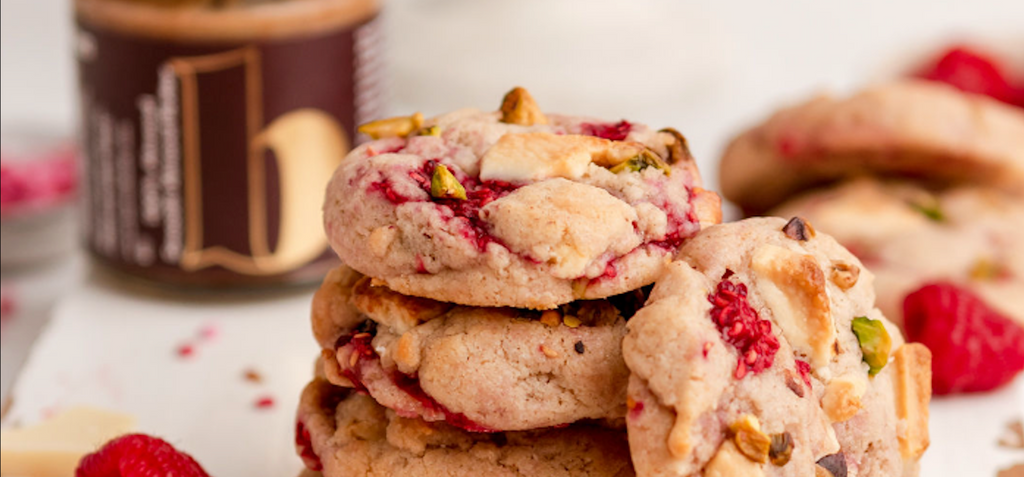 Stuck on what to get your Valentine this year? I've got the perfect gift for you! Homemade cookies made with love! Your Valentine will be super impressed and taken back with all the thought and effort into their gift. This recipe is straightforward and only takes 25 mins.

This tasty recipe serves 12 with a prep time of 15 minutes and a total cooking time of 25 minutes. You can't go wrong!
Directions
1. In a mixing bowl mix together the almond butter, coconut oil and sugar until combined.
2. Add in the pistachio drink and mix until fully combined.
3. Sift in the flour, baking powder, baking soda. Mix until dough forms.
4. Gently fold in the 2/3 of the white chocolate pieces, raspberries and pistachios.
5. Chill the dough in a fridge for 30-35 minutes.
6. In the meantime preheat the oven to 180ºC and line a cookie where with parchment paper.
7. Divide the dough into 12 even pieces and place them on the cookies sheet about 2 cm apart.
8. You can flatten them a little bit, but they will spread. Decorate the top with the rest of the chocolate, raspberries and pistachios.
9. Bake for 14 minutes until slightly brown on top and the edges.
10.Allow the cookies to cool down on the cookie sheet before removing them. Top with heart sprinkles and enjoy!
Ingredients
50 g almond butter (smooth)
100 g coconut oil
150 g caster sugar
80 ml pistachio drink
250 g all-purpose flour
½ tsp baking soda
½ tsp baking powder
80 g chopped white chocolate
50 g raspberries
50 g chopped pistachios
Try this extremely easy White chocolate, raspberry and pistachio cookies recipe using our Smooth 100% Pure Almond Butter, Natural Kernels Retail Packs, , and let us know what you think! Tag us in your delicious re-creation on Instagram or Facebook! Use hashtag #nutsaboutborna to be featured!
Subscribe to our newsletter and follow us on Instagram & Facebook for more healthy recipes and product updates!