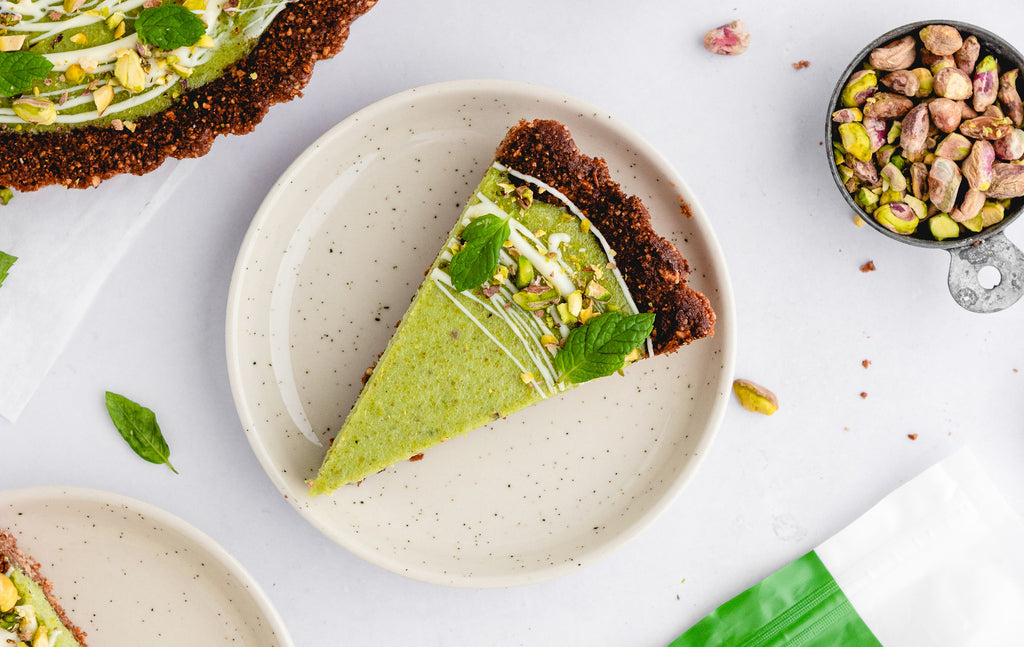 Have you ever made a tart dessert?
Today is the day, this super easy recipe serves up to 12 people and a total cooking time of just 1 hour!  This tart has an airy, smooth and silky filling inside with a crust that has a beautiful crisp that falls apart in your mouth!
Directions
1. Soak the pistachios for filling for 2-4 hours or overnight. Rinse the pistachios and remove the skins with your fingers.
2. Grease a 9-inch tart tin with cooking spray or coconut oil and preheat the oven to 180ºC.
3. For the crust add pistachios, almonds, 100% smooth pistchio butter and maple syrup into a food processor and blend until the crust start to form a dough.
4. Transfer into the prepared tin and press the dough into the bottom and side of the tin.
5. Bake for 12 minutes until golden brown on top. Let it cool completely.
6. In the meantime, prepare the filling. Melt the white chocolate in the microwave or over a double boiler.
7. Place the soaked and skinless pistachios into a food processor with coconut milk, maple syrup and melted white chocolate.
8. Mix until smooth and combined (around 5-6 minutes) if you want a more rustic feeling blend for 2-3 minutes and if you want creamier filling blend longer.
9. Pour the filling onto prepared crust and let it sit for at least 2-3 hours best overnight.
10. Top the tart with more melted chocolate and chopped pistachios. Enjoy x
Ingredients
Crust:
250 grams almonds
50 grams pistachios
50 grams100% natural smooth pistachio butter
50 ml maple syrup
Filling:
150 g vegan white chocolate
200 grams pistachios (soaked)
300 grams full fat coconut milk (thick part)
50 ml maple syrup
Topping:
Pistachios and Melted Chocolate
Try this extremely easy White chocolate pistachio tart recipe using our Natural Kernels Retail Packs, Smooth 100% Pure Pistachio Butter, Whole Almond Nuts, and let us know what you think! Tag us in your delicious re-creation on Instagram or Facebook! Use hashtag #nutsaboutborna to be featured!
Subscribe to our newsletter and follow us on Instagram & Facebook for more healthy recipes and product updates!