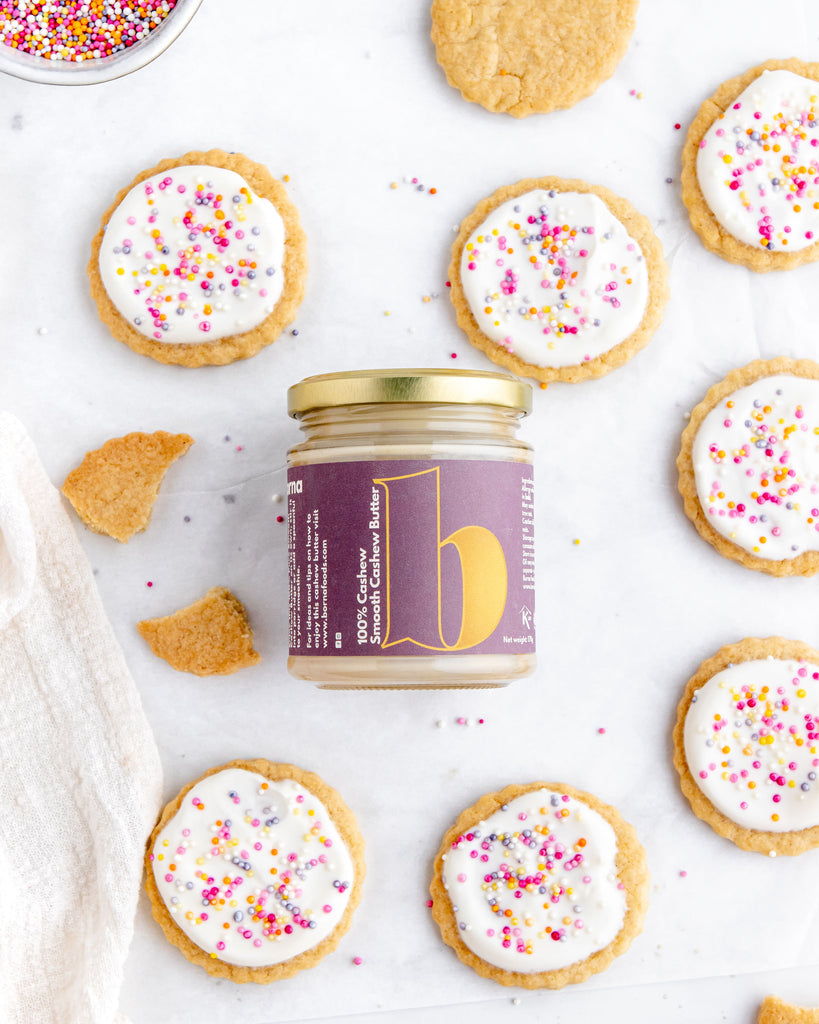 When in doubt, bake it out! These super easy vegan sugar cookies are great for any occasion and are so easy to make that anyone can be a pastry chef for a day! 
Directions
1. Add softened butter sugar, brown sugar, vanilla, apple puree, smooth almond butter to a large mixing bowl and beat for 1 minute.
2. Mix all ingredients in a big bowl. Add into butter mixture and mix until incorporated. Then add almond milk and mix until dough forms.
3. Cover and refrigerate for 30 minutes.
4. Roll out the dough on lightly floured surface and cut with your favourite cookie cutter.
5. Arrange cookies of baking sheet 2 inch apart as they will spread during baking.Bake for 10-12 minutes. Remove from oven and let rest on pan for a few minutes.
6. Then transfer to a cooling rack to cool completely.
Ingredients
110 g vegan butter
100 g organic cane sugar
40 g Smooth Cashew Butter
1 tsp vanilla extract
250 g all-purpose flour
1 tsp corn-starch
1 tsp baking powder + 1/2 tsp baking soda
1-2 tsp pistachio drink
Frosting:
120g Powdered Sugar
1/2 tsp Vanilla Extract
1 Tbsp pistachio drink
Try this extremely easy Vegan sugar cookies recipe using our Smooth 100% Pure Cashew Butter, , and let us know what you think! Tag us in your delicious re-creation on Instagram or Facebook! Use hashtag #nutsaboutborna to be featured!
Subscribe to our newsletter and follow us on Instagram & Facebook for more healthy recipes and product updates!