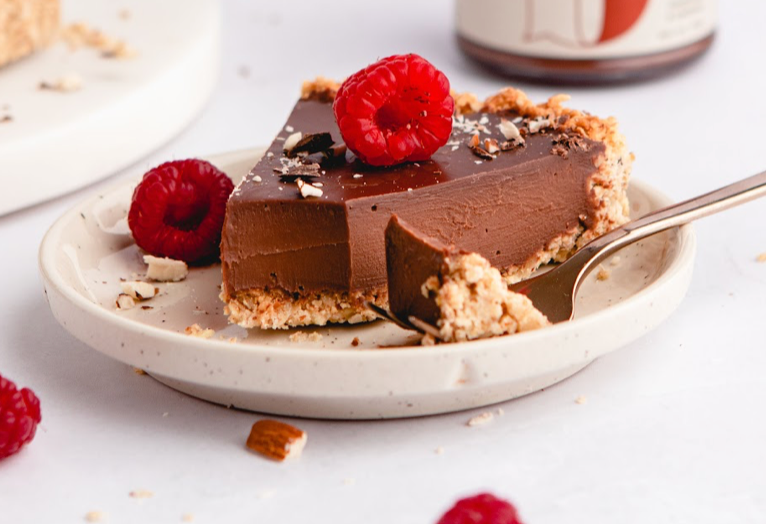 A slice of this rich, vegan chocolate tart with raspberries is the perfect way to end any meal. This indulgent dessert is easy to make with just a handful of ingredients. We also used our NEW chocolate spread to make this tart! Enjoy!
Directions
Preheat oven to 180ºC and grease a 22 cm tart pan with coconut oil, set aside.
For the crust add oats and almonds into a food processor. Pulse until combined and addmaple syrup and coconut oil. Process into a moist mixture.
Firmly press dough into the tart and press up on the sides as well. Bake for about 10-15 minutes until the crust appears golden brown. Let it cool down completely.
To make the ganache, break the dark chocolate up into chunks and place it into a glass bowl and top a saucepan of boiling water.
Once the chocolate is completely melted, pour the coconut milk into the dark chocolate and whisk until smooth and glossy.
Take off the heat and add the chocolate spread and mix until creamy.
Pour the chocolate ganache into the baked crust. Place into the refrigerator for 1 hour until set.
Once set, top with berries and and slice.
Ingredients
Crust:
140 grams oats
75 grams almonds
70 ml melted coconut oil
40 ml maple syrup
Filling:
250 grams dark chocolate vegan
50 g chocolate spread
540 mL coconut milk tinned
Topping:
Raspberries, Chocolate Shavings
Try this extremely easy Vegan chocolate tart with raspberries recipe using our Chocolate Spread, and let us know what you think! Tag us in your delicious re-creation on Instagram or Facebook! Use hashtag #nutsaboutborna to be featured!
Subscribe to our newsletter and follow us on Instagram & Facebook for more healthy recipes and product updates!