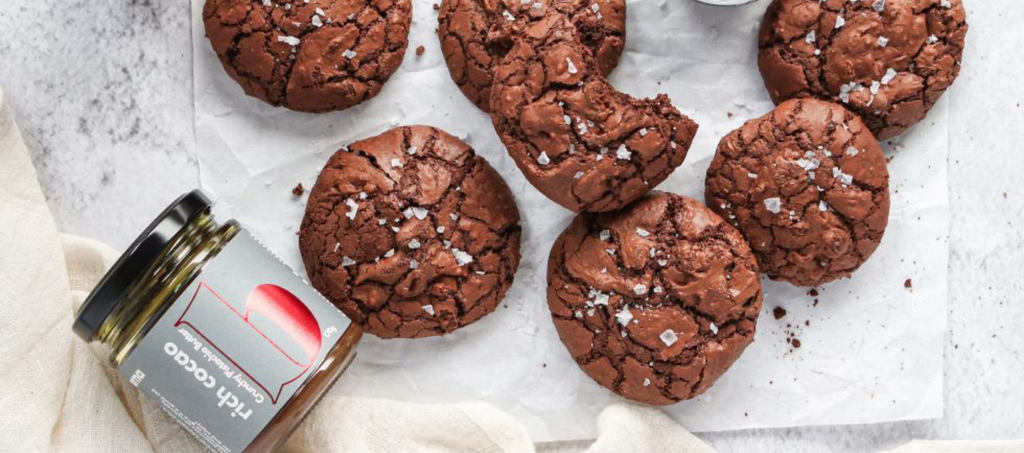 Crispy on the outside with dug centre these chocolate brownies cookies are the best cookies you'll ever try. Soft, chocolate and gooey centre is a heaven combination and who don't want to eat brownies portion in cookies version!
This recipe is also super easy to make, it will take you like 10 minutes to put them together plus 12 minutes of baking. that's a WIN-WIN! Also you can freeze the batter and make them anytime you like.
Directions
1. Preheat the oven to 170C degrees and line baking sheets with parchment paper.
2. In a heat proof bowl add the chocolate and butter, and place over a double boiler with simmering water.
3. Stir the butter and chocolate until it is completely melted and smooth. Once all is melted and combined, remove from heat.
4. While the chocolate and butter are melting, in medium bowl beat the brown sugar, granulated sugar, flax eggs and Rich Cacao Pistachio Butter. Add in the water and vanilla.
5. Fold in the chocolate-butter mixture until fully combined.
6. Then, add in the flour, cocoa powder, baking powder, and salt, and mix until just combined. The batter will be much softer than most cookie doughs.
7. Using a cookie scoop, scoop batter onto the prepared baking sheets about two inches apart.
8. Bake cookies for about 12 minutes until they are crackly, shiny, and appear set.
9. Allow to cool completely on baking sheet, then sprinkle with flaky sea salt.
Ingredients
250g vegan chocolate
50g vegan butter*
100g brown sugar
65g brown/white sugar
1 flax eggs*
50g Borna Rich Cacao Butter
2 1/2 tbsp water
1/2 tsp vanilla paste or extract
75g all-purpose flour*
15g dutch process cocoa powder
1/4 tsp baking powder
1/4 tsp salt
1/4 tsp baking powder
1 teaspoon Espresso Powder flaky sea salt for sprinkling
Try this extremely easy Vegan chocolate brownie cookies recipe using our Green Peeled Retail Packs, and let us know what you think! Tag us in your delicious re-creation on Instagram or Facebook! Use hashtag #nutsaboutborna to be featured!
Subscribe to our newsletter and follow us on Instagram & Facebook for more healthy recipes and product updates!