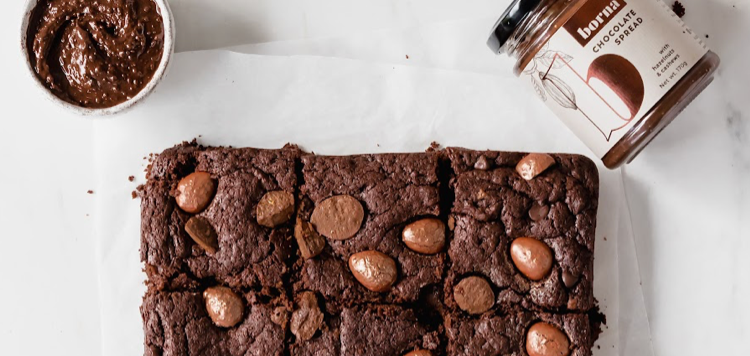 These fudgy mini egg vegan brownies with crackled top is the only chocolate vegan dessert you'll need this Easter! Surprise your family with an indulgent brownie that they'll won't easily forget. 
Directions
1. Preheat oven to 160°C and grease 8×8 square pan.
2. Melt chocolate chips in microwave for a minute, stirring after to see if chips have melted.
3. Alternatively, you can melt it over a small pot of boiling water and put the chocolate chips it in a heat proof and melt proof bowl over the pot and stir until melted.
4. In a medium bowl, whisk the flour, salt and baking soda until combined. Set aside.
5. In a separate bowl, add the flax eggs, vegan chocolate spread, vanilla extract, sugar and oil and mix until combined for about 2 minutes.
6. Add the dry mixture from earlier to the wet mixture along with the melted chocolate and stir for about 3 minutes until combined.
7. Stir in the remaining chocolate chips. Pour into a greased pan.
8. Top with mini easter eggs and bake for 35 minutes.
9. When finished, remove from oven and allow to cool completely in the pan on a wire rack.
10. Slice and Enjoy!
Ingredients
180g chocolate or chocolate chips, melted
135 g all-purpose flour
½ teaspoon sea salt
¼ teaspoon baking soda
flax eggs (1 tbsp flax seeds + 2 ½ tbsp water mixed together)
2 tbsp vegan chocolate spread
150g cup brown or coconut sugar
100ml melted coconut oil or any neutral flavoured oil
1 teaspoon pure vanilla extract
100 g chocolate chips, unmelted
1 pack mini easter eggs





Try this extremely easy Vegan chocolate brownie with mini eggs recipe using our Chocolate Spread, and let us know what you think! Tag us in your delicious re-creation on Instagram or Facebook! Use hashtag #nutsaboutborna to be featured!
Subscribe to our newsletter and follow us on Instagram & Facebook for more healthy recipes and product updates!