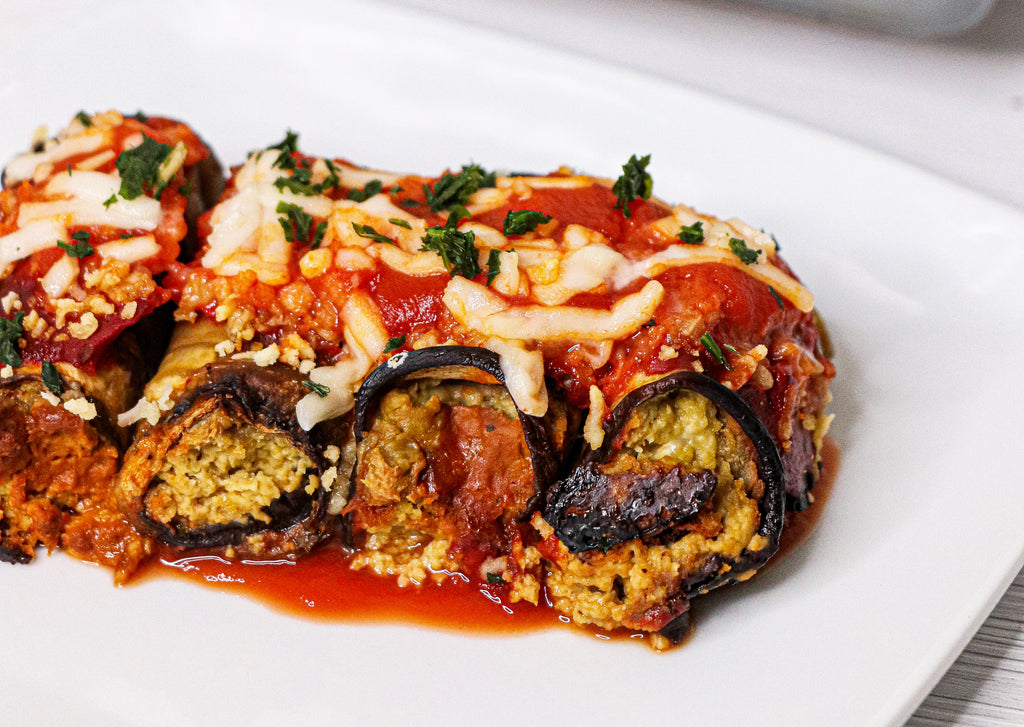 Aubergine rolls filled with creamy pistachio tempeh baked with homemade tomato sauce, topped with vegan parmesan & mozzarella and parsley. Great for lunch or dinner!
Directions
Preheat oven to 200°c
Cut the ends of the aubergine and then slice thin strips vertically.
Lightly oil a baking sheet and place the the aubergine slices on it. Cover with oil and a bit of salt and pepper to taste on top. This will provide taste but the salt will also dry out the excess water from the aubergine.
Put the aubergine in the oven for 5mins and then leave to cool completely. This will partially cook the slices and give it more flexibility when rolling.
In a food processor or blender, make the filling by adding all the ingredients minus the salt, lemon and water.
Add in salt and lemon to taste, and then slowly add the water. Depending on the power of your mixer, you might need the full amount of water or less.
Place a heaped tablespoon filling of the filling at the shortest part of the spice and roll upwards to the widest part.
Make the tomato sauce in a pan and add a thin layer to your baking dish.
Place the filled aubergine rolls with the open face down in the dish so it doesn't unroll and top with more tomato sauce.
Place the dish in the oven for 30mins, remove and add parmesan/mozzarella and cook for a further 5mins.
Serve hot with fresh chopped parsley.
Ingredients
Filling:
200g Better Nature Tempeh Organic Tempeh
90g pistachio butter
120g vegan mozzarella style cheese
1 tbsp garlic paste or 1-2 minced garlic cloves
50ml water
1 tsp salt
2 tbsp of lemon juice
vegan parmesan and mozzarella style cheese on top (about 30g)
For the tomato sauce:
1 tbsp tomato paste
300ml passata
¼-½ tsp basil and oregano
Salt/black pepper to taste
Try this extremely easy Tempeh Pistachio Rollatini recipe using our Smooth 100% Pure Pistachio Butter, and let us know what you think! Tag us in your delicious re-creation on Instagram or Facebook! Use hashtag #nutsaboutborna to be featured!
Subscribe to our newsletter and follow us on Instagram & Facebook for more healthy recipes and product updates!