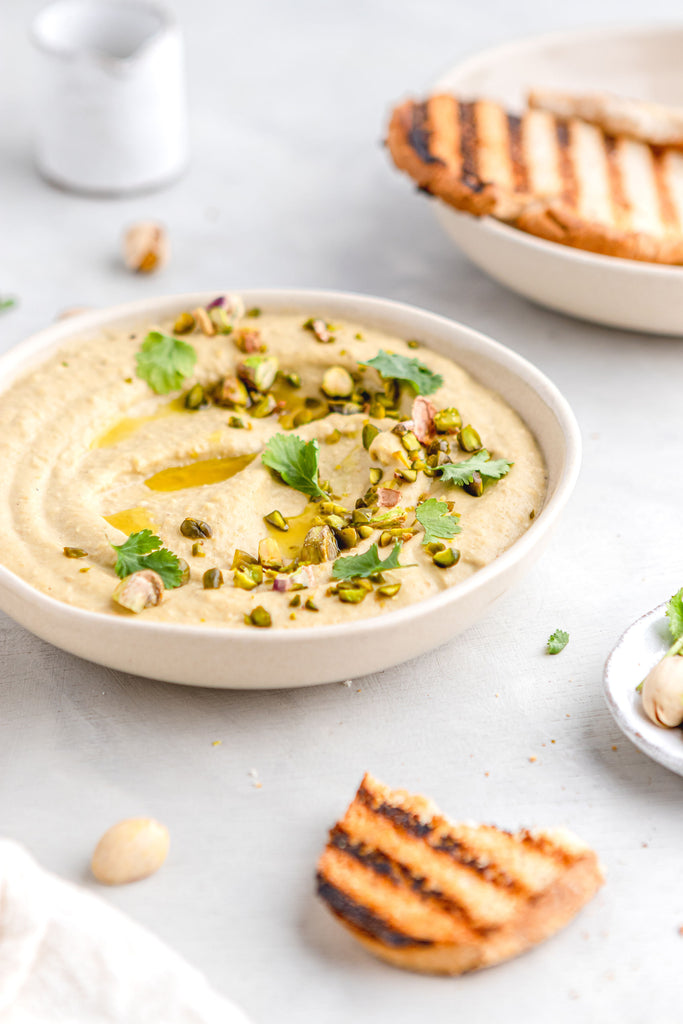 If you feel like snacking you will appreciate how fulfilling this pistachio hummus truly is! With great flavours and textures its perfect as a snack or for a side dish at a family get together!
Directions
1. Place the chickpeas into clean kitchen towel and remove the skins. They will come off easily.
2. Place the chickpeas into the pot and cook for 5-8 minutes and rinse the chickpeas. You can leave out this step, but the hummus will have more rustic texture.
3. In a food processor add chickpeas, garlic, pistachios, pistachio butter, olive oil, salt, lemon juice and mix until smooth and creamy around 2-3 minutes. If needed add 1 tbsp of water to get the desired consistency.
4. Transfer to serving bowl and top with toasted sesame seeds, olive oil and fresh coriander/parsley.
Ingredients
400g chickpeas drained
1 garlic clove
60 ml 100% smooth pistachio butter
30 ml avocado/olive oil
50g roasted pistachio nuts
1 tsp salt
Lemon juice from 1 lemon
Water if needed
Topping:
Roasted Pistachios
1 bunch Coriander or Parsley
Try this extremely easy Roasted pistachio hummus recipe using our Smooth 100% Pure Pistachio Butter, Natural Kernels Retail Packs, and let us know what you think! Tag us in your delicious re-creation on Instagram or Facebook! Use hashtag #nutsaboutborna to be featured!
Subscribe to our newsletter and follow us on Instagram & Facebook for more healthy recipes and product updates!