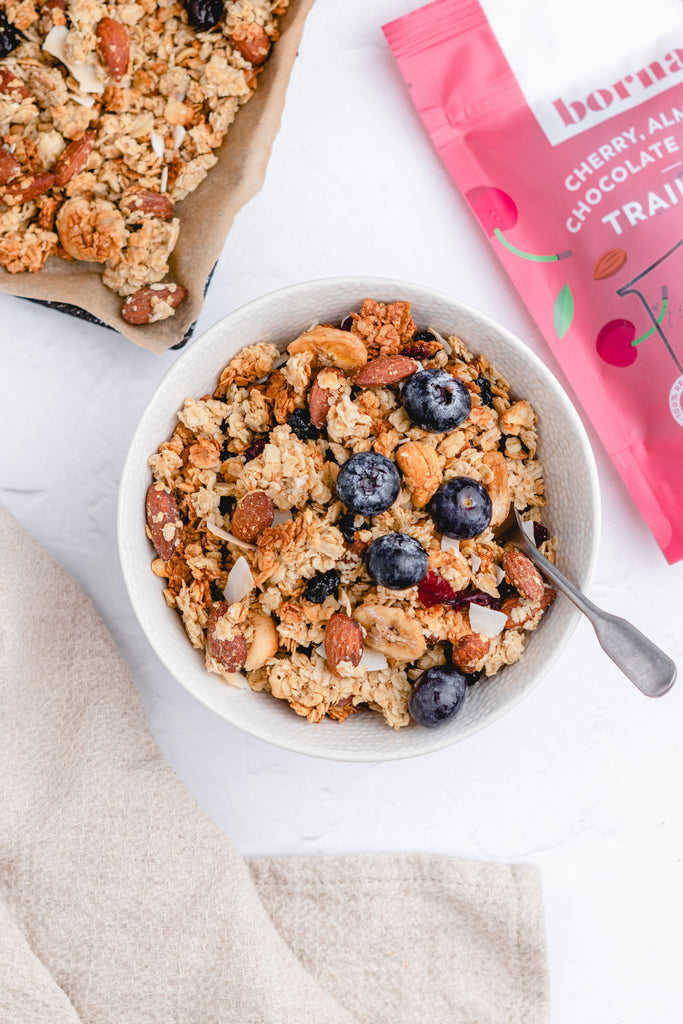 Make your own homemade granola in no time! Boost your breakfast with a mix of nuts and fruits for the ultimate fibre kick! 
Directions
1. Preheat the oven to 160C.
2. In a small pan, heat the oil and maple syrup together.
3. In a big mixing bowl, add oats and almonds.
4. Pour the maple syrup mixture over the oats and stir well to coat.
5. Transfer the granola onto a large baking tray and spread it into one layer.
5. Bake for 15-20 mins from each side until granola is golden and crisp.
6. Leave the granola to cool, and then mix in the trail mix or nuts and dried fruit.
7. Serve with yoghurt, pistachio drink or fresh fruit.
8. Granola can be store in an air tight container for up to 2 weeks.


Ingredients
60ml coconut/vegetable oil
80ml maple syrup or honey
400g jumbo rolled oats
100g whole cashews
200g Borna Food Trail Mix
or:
50g cashew nuts
50g almonds
30g pumpkin seeds
50g raisins
50g dried cherries or dried blueberries
50g chopped dried dates or chopped dried apricots
50g coconut chips
Greek yoghurt, pistachio drink or fresh fruit to serve
Try this extremely easy Nuts and fruit granola recipe using our Whole Cashew Nuts, Dried Sour Cherries, Dried Blueberries, , , and let us know what you think! Tag us in your delicious re-creation on Instagram or Facebook! Use hashtag #nutsaboutborna to be featured!
Subscribe to our newsletter and follow us on Instagram & Facebook for more healthy recipes and product updates!