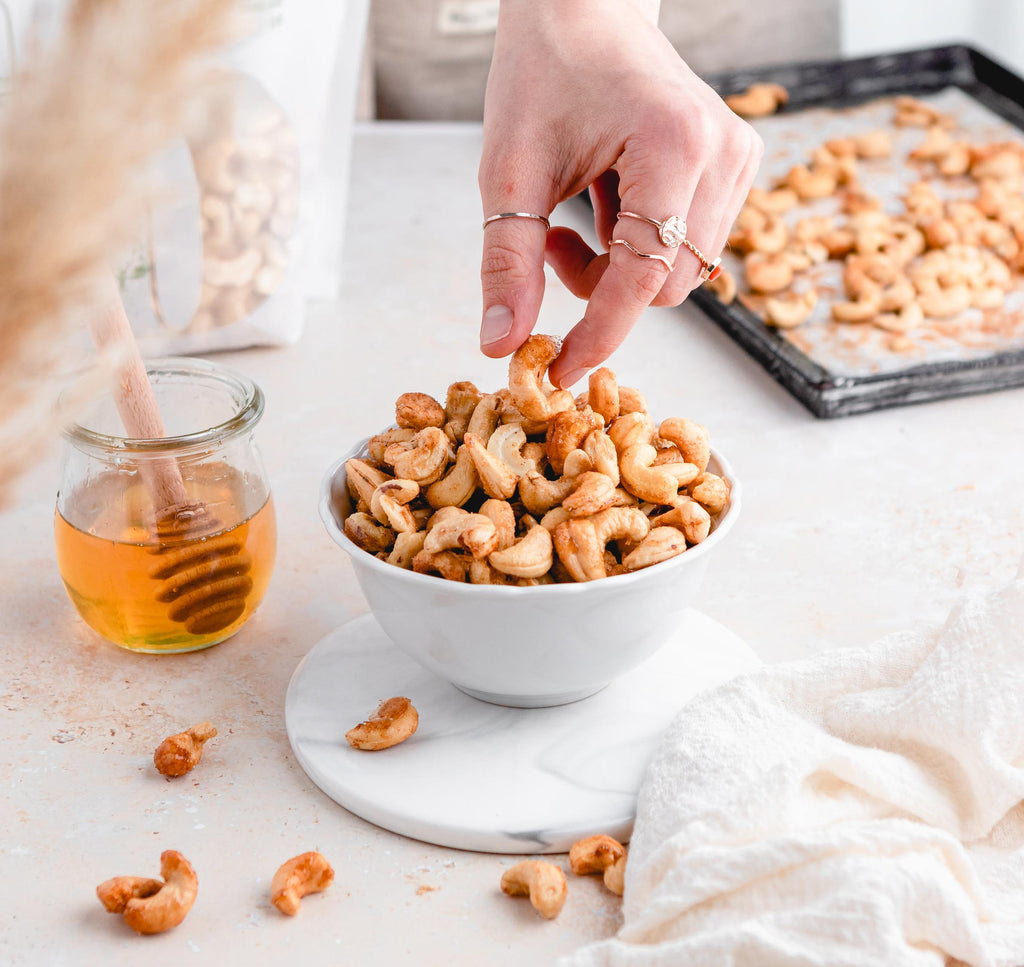 You will love how easy this roasted nut recipe is to make!  These easy Honey Roasted Cashews made using our premium whole cashew nuts are perfect for a party, lunchbox, snack, or on top of thick creamy yogurt!
Even better, this recipe is ready in under 20 minutes. 
Directions
1. Preheat the oven to 350.
2. In a small pan mix the honey and coconut oil until combined. Whisk in the cinnamon and vanilla.
3. Place the cashews in a bowl and pour the honey mixture over to pan and use a spatula to toss them around until
completely coated.
4. When coated, spread in a single layer on a pan and bake for 6 minutes.
5. Remover from your oven, toss and spread evenly, baking for 6 more minutes.
6. Transfer the roasted cashews into a clean medium-sized bowl. Then add in the light brown sugar and a few pinches of kosher salt. Toss to coat cashews.
7. Once coated in sugar, spread the warm nuts in one leayer on a parchment lined baking sheet to cool. If any stick together, you can break them apart once they're cool enough. Store in an air tight container.
Ingredients
200g cashews
40ml honey
30ml melted coconut oil
a pinch or two of kosher salt
1 teaspoon vanilla extract
1/4 tsp cinnamon 25g light brown sugar / granulated sugar
Try this extremely easy Honey roasted cashews recipe using our Whole Cashew Nuts, and let us know what you think! Tag us in your delicious re-creation on Instagram or Facebook! Use hashtag #nutsaboutborna to be featured!
Subscribe to our newsletter and follow us on Instagram & Facebook for more healthy recipes and product updates!