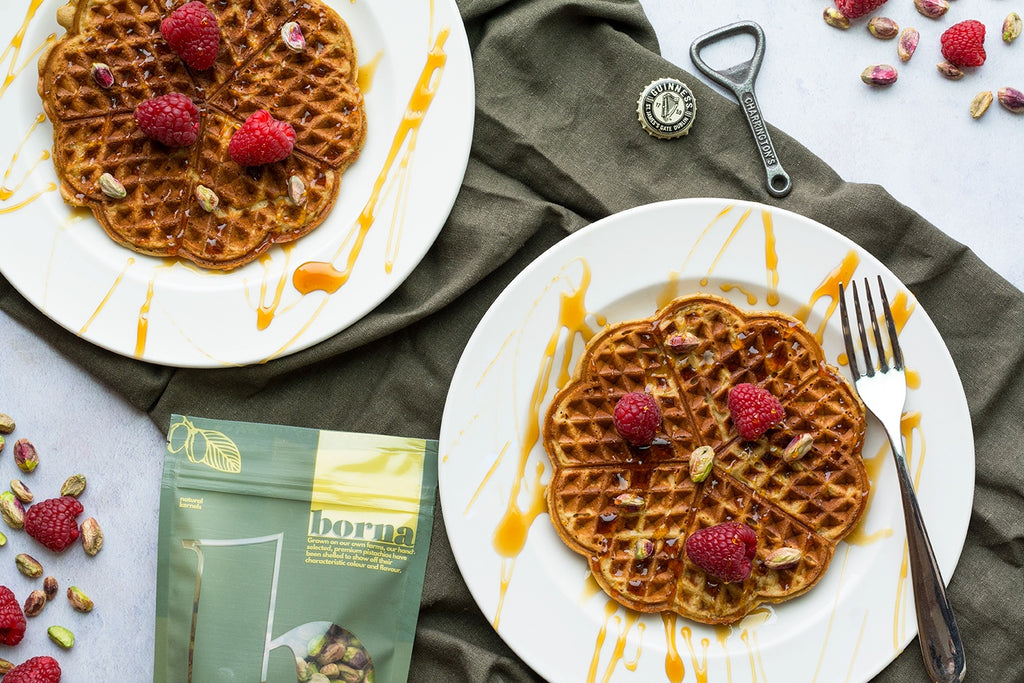 Today is the day when the Irish celebrate the patron saint of Ireland, St.Patrick, and drink copious amounts of Guinness! I've created a recipe that screams to be eaten on St.Patricks Day. These waffles are light and fluffy but have the rich flavour of Guinness and pistachio butter…honesty, these two ingredients are a match made in heaven!
Fear not all the people out there who don't have waffle makers! You can always make American pancakes out of the batter, just another 2 tbsp of flour to make the batter thicker.
Makes 4 delicious waffles (serves 2)
Ingredients:
Waffles
200g Flour
2tbsp Borna Smooth 100% Pistachio Butter
3tbsp Agave syrup
150ml Guinness
50ml Almond milk
1/2 tsp Baking powder
To Serve
2tbsp Borna Pistachio Butter
5g Pistachio Kernels
5g Raspberries
1/2 tbsp Agave syrup
Directions:
♥ If you need to pre-heat your waffle marker then this is the time to do so (set to medium to high heat)
♥ Sieve the flour into the bowl, add the pistachio butter, agave syrup, Guinness, milk and mix together to make a thick batter
♥ Add the baking powered and mix again
♥ Grease the waffle iron with oil (you'll need to do this for every waffle). Watch for the hot irons, we don't want any burnt fingers!
♥ Spoon the batter into the waffle maker, making sure you don't overfill it as you'll end up with an overflow of mess
♥ The waffles will take roughly 3 mins to cook, make sure they're crispy before you take them out (no one likes a soggy waffle)
♥ To keep your waffles nice and crispy pop them on a cooling rack while you cook the rest
♥ Once all the waffles are cooked, stack them and top with pistachio butter, kernels, agave syrup & raspberries
Happy St.Patricks Day! Let the luck of the Irish reflect upon your day. Take a look at our shop for our delicious range of pistachio products. Don't forget to tag us with your creations using our hashtag #nutsaboutborna
Emma Langston, Content Writer at Borna Foods
---