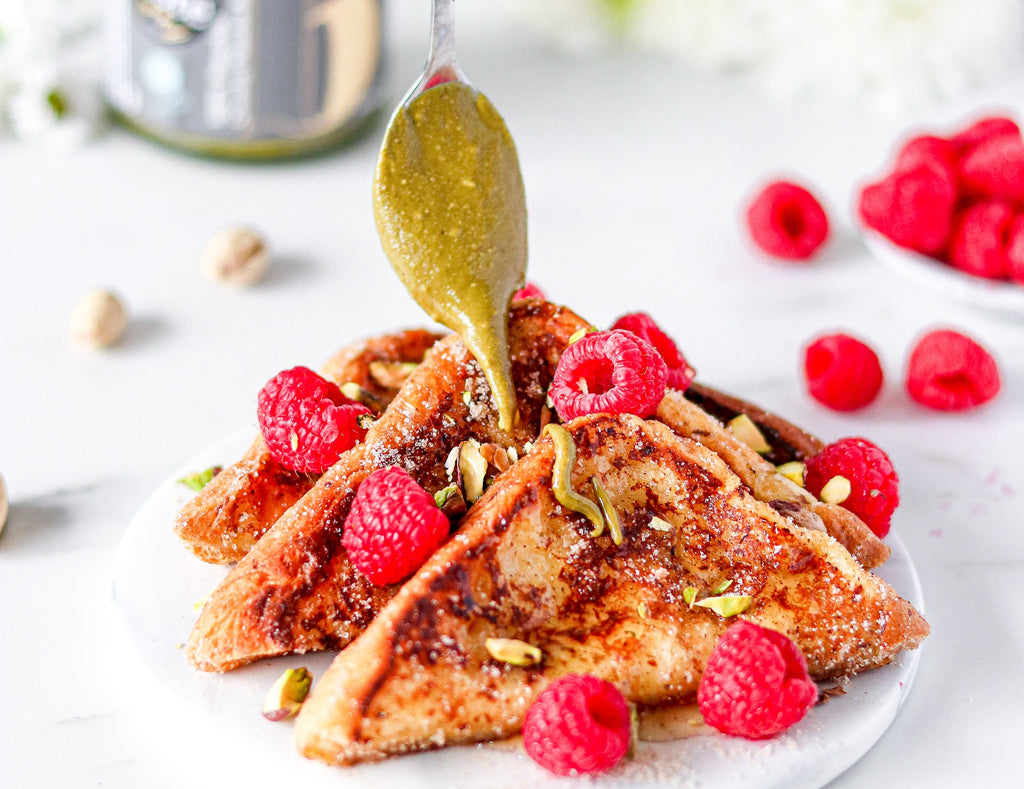 Meet your new favourite breakfast: Cinnamon French Toast made by Barbara's Food Cravings. Thick, golden crispy on the outside, soft and delicious inside, results in a classic French Toast that is so authentic no one will guess it's vegetarian!
Directions
In a mixing bowl which together the pistachio drink, egg cinnamon, honey, flour, and vanilla until creamy and smooth.
Add coconut oil to a pan over medium temperature and heat.
Whisk the batter again right before dipping the bread. Dip each side and let it soak for about 20 seconds. Then, add the bread to the pan.
Cook for 2-3 minutes on each side, until it's golden brown and crispy on the outside.
In a small bowl whisk together the sugar and cinnamon. Cover hot french toast in the mixture.
Serve with our Smooth Pure Premium Pistachio Butter and raspberries.
Ingredients
For french toast:
2 slices of brioche
1 egg
100 ml pistachio drink
1 tbsp plain flour
2 tbsp honey vanilla extract
1/2 tsp cinnamon


For topping:
2 tbsp Smooth Pure Premium Pistachio Butter
2 tbsp caster sugar raspberries
vegan butter
1 tsp cinnamon
Try this extremely easy Cinnamon French Toast recipe using our Smooth 100% Pure Pistachio Butter, , , and let us know what you think! Tag us in your delicious re-creation on Instagram or Facebook! Use hashtag #nutsaboutborna to be featured!
Subscribe to our newsletter and follow us on Instagram & Facebook for more healthy recipes and product updates!