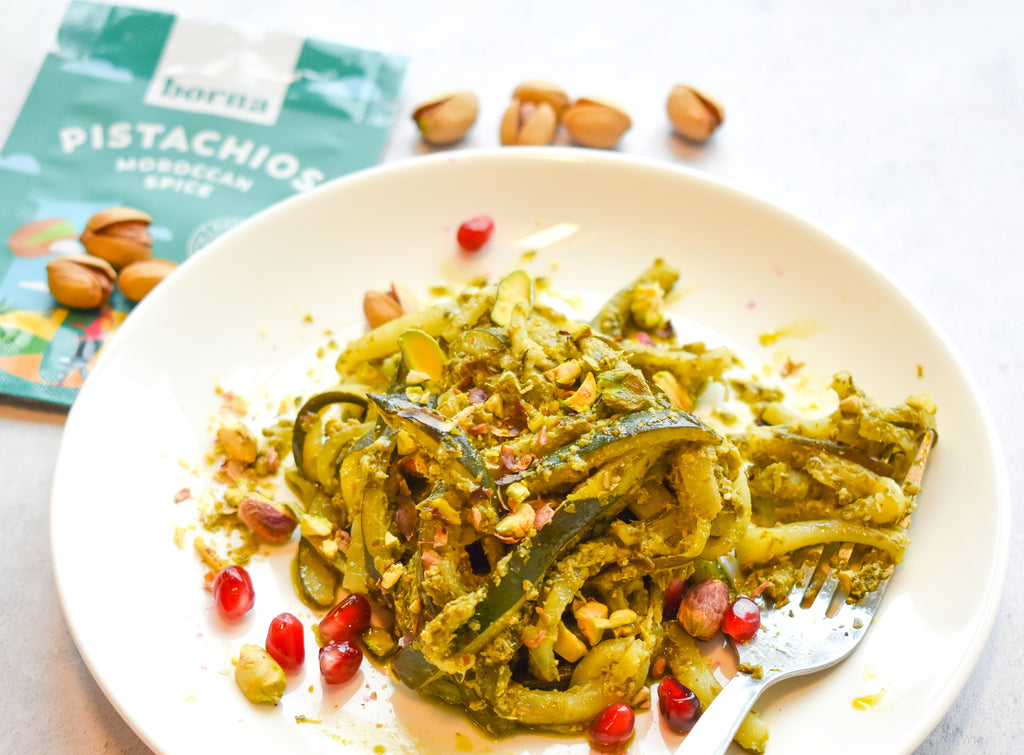 Whether you follow a strict meal plan, or you simply follow your gut, there's always wiggle room for indulgence, and the weekend calls for mouth-watering zucchini noodles with a generous amount of pesto made from our Simply Roasted Pistachios.
It's an interesting and health-conscious twist on a classic pesto with a pasta dish. You will love it!
Nutritional Value (per serving) | 311 Kcal | 24g Fat | 10g Protein | 5g Fibre | 10g sugar
Ingredients (This recipe serves 4):
♥ 1/2 cup Simply Roasted Pistachios
♥ 1 2 Gloves garlic
♥ 1 4 Zucchini
♥ 1/4 cup Olive oil, extra-virgin
♥ 1 tbsp Lemon juice
♥ 1/2 tsp Sea salt
For decoration:
♥ 15 g Moroccan Flavoured Pistachio Kernels
Instructions
1. Cut lengthwise slices from zucchini using a vegetable peeler or a knife, stopping when the seeds are reached. Turn zucchini over and continue 'peeling' until all the zucchinis in long strips; discard seeds.
2. Heat olive oil in a skillet over medium heat; cook and stir zucchini in the hot oil for 1 minute.
3. PIn a food processor or a blender, pulse together Simply Roasted Pistachios, basil, and lemon juice until the nuts are finely chopped. Add extra-virgin olive oil and salt and pulse until well combined.
4. Spiralize zucchini and toss with pistachio pesto. Don't forget to drizzle our chopped Moroccan Flavoured Pistachio Kernels on top for a spice!
These zucchini noodles with pistachio pesto are versatile enough that you could do any number of things with it. Don't be scared to add some grilled salmon or even grilled chicken. Yummy!
Try this vibrant & Vegetarian & Gluten Free Zucchini Noodles with Pistachio Pesto recipe and let us know what you think! Tag us in your delicious re-creation on Instagram or Facebook! Use hashtag #nutsaboutborna to be featured!
Subscribe to our newsletter and follow us on Instagram & Facebook for more healthy recipes and product updates!
Inesa Slevaite, Marketing Executive at Borna Foods
---