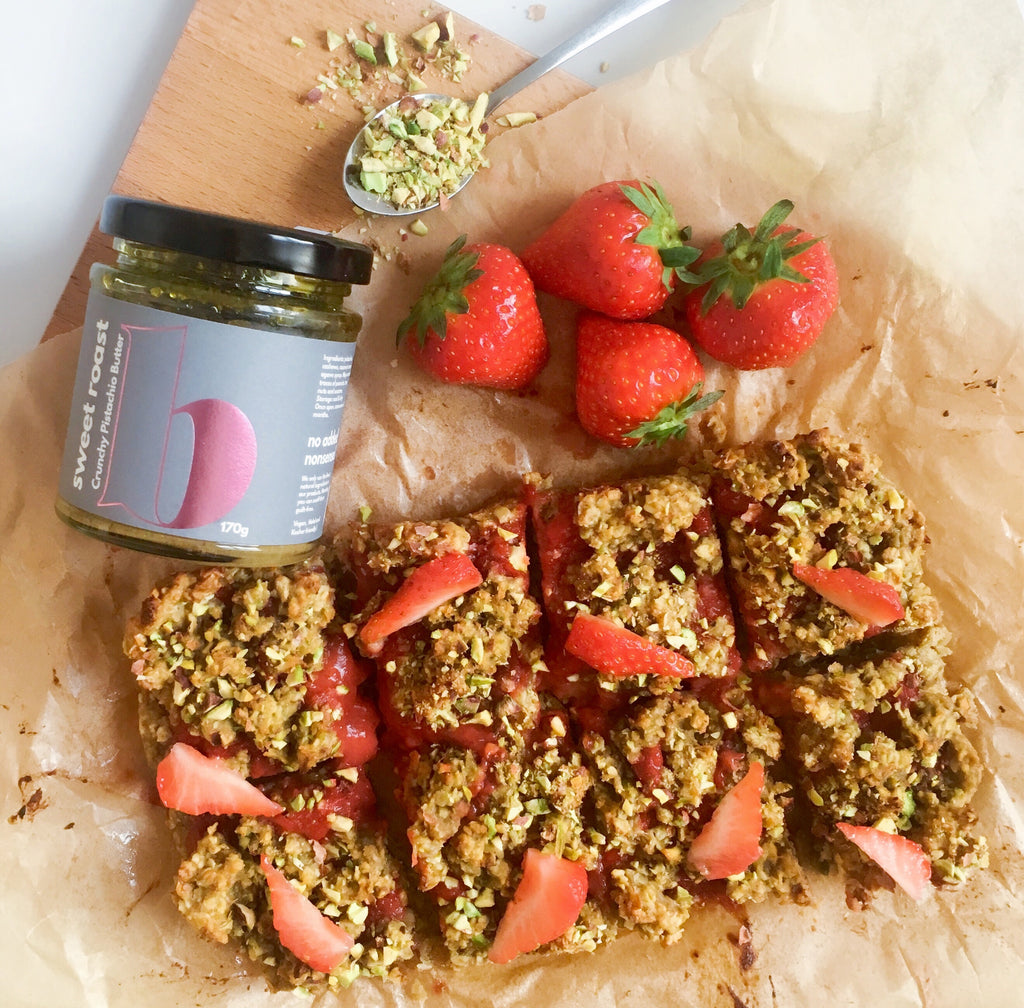 Vegan, gluten-free & refined sugar-free pistachio oat bar that is made with only natural ingredients, and can be enjoyed as an on-the-go breakfast, pre/post-workout or snack!
Combining the healthy fats from pistachios, and natural sweetness from the strawberries and bananas, you can now stay fuller for longer and satisfy your sweet tooth without adding nasties to your diet!
Nutritional Value (per serving) |188 Kcal | 7.8g Fat | 3.93g Protein | 3.36g Fibre | 11.4g sugar
Ingredients (This recipe makes 8 bars):
For the Strawberry Jam filling:
♥ 2 cups Frozen Strawberries
♥ 1 tsp All-purpose Flour
♥ 1 tbsp Maple Syrup
♥ 1 tsp Lemon Juice
For the Oat Bar:
♥ 1 ½ cups Rolled Oats
♥ ½ cup All-purpose Flour
♥ ½ cup Roasted Pistachio Kernels
♥ ¼ cup Sweet Roast Crunchy Pistachio Butter
♥ 1 cup Mashed Ripe Banana
♥ 2 tbsp Maple Syrup
♥ 1 tbsp Vegan Butter
♥ 1 tsp Vanilla Extract
♥ 1 tsp Cinnamon
Instructions
For the Strawberry Jam:
1. Cook frozen strawberries and maple syrup on a medium heat for around 5 -7 minutes.
2. Mix in flour, and simmer over low heat for 5 minutes or until thicken, stir constantly.
3. Remove from the pan and let it cool
For the Oat Bars:
1. Pre-heat the oven 180°c. Line the baking dish with parchment paper, lightly grease with coconut oil or vegan butter.
2. Add all the ingredients in a food processor, process until all ingredients are well combined.
3. Evenly spread 3/4 of the oat mixture into the prepared baking dish, bake for 8-10 mins.
4. Remove the baked mixture from the oven. Spread the strawberry jam over evenly. Then sprinkle the remaining oat mixture on top.
5. Bake for further 25-30 minutes or until the top of the bar turns slightly golden brown.
Try this pistachio oat bar recipe and let us know what you think! Tag us in your delicious re-creation on Instagram or Facebook! Use hashtag #nutsaboutborna to be featured!
Subscribe to our newsletter and follow us on Instagram & Facebook for more healthy recipes and product updates!
Gloria Cho, Marketing Executive at Borna Foods
---