Vegan Roasted Carrots with Pistachio Butter - Happy International Carrot Day!
---
Apr 04, 19
|
Dinner
Pistachios
Recipe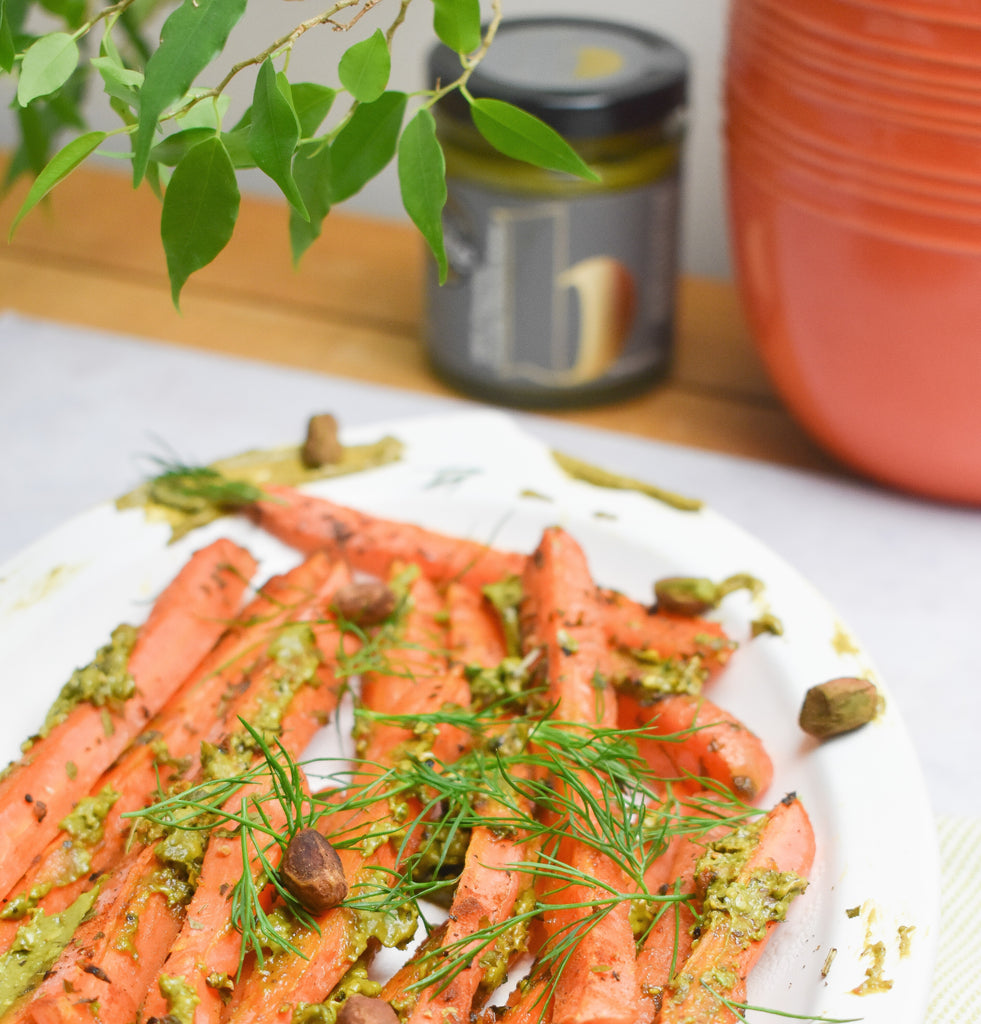 The International Carrot Day or Carrot Day is celebrated every year on April 4th and is the pinnacle for carrot lovers all around the world. It is the day when the carrot is celebrated in Borna Foods as well – through carrot party with the food made from carrots and pistachios.
Carrots are also a really versatile cooking ingredient; they don't just belong in carrot cake or alongside your meat and spuds on a Sunday. Get into the spirit of International Carrot Day and start experimenting with carrots in your cooking. Therefore, we, Borna Foods team decided to incorporate our lovely Crunchy 100% Pure Pistachio Butter with roasted carrots!
Nutritional Value (per serving) | 109 Kcal |6g Fat | 2g Protein |7g Sugar
Ingredients
♥ 1 kg young carrots, trimmed, peeled
♥ 1/2 cup virgin olive oil
♥ 1 1/2 teaspoons kosher salt
♥ 1 teaspoon freshly ground black pepper
♥ 2 tbsp Crunchy 100% Pure Pistachio Butters
♥ 1/4 cup Chinese 5 Spice Flavoured Pistachio
Instructions:
Preheat oven to 200°C. Toss carrots with 2 tbsp. oil, 1 tsp. salt, and 1/2 tsp. pepper on a baking sheet. Roast, tossing occasionally, until carrots are golden brown and tender, 25–35 minutes. Let cool.
Transfer carrots to a plate. Drizzle with

 

Crunchy 100% Pure Pistachio Butter, then top with fresh dills and 1/4 cup

 

Chinese 5 Spice Flavoured Pistachios. Enjoy!
Try our Vegan Roasted Carrots with our Crunchy 100% Pure Pistachio Butter this lovely Carrot Day and let us know what you think! Tag us in your delicious re-creation on Instagram or Facebook! Use hashtag #nutsaboutborna to be featured!
Subscribe to our newsletter and follow us on Instagram & Facebook for more healthy recipes and product updates!
Inesa Slevaite, Marketing Executive at Borna Food
---