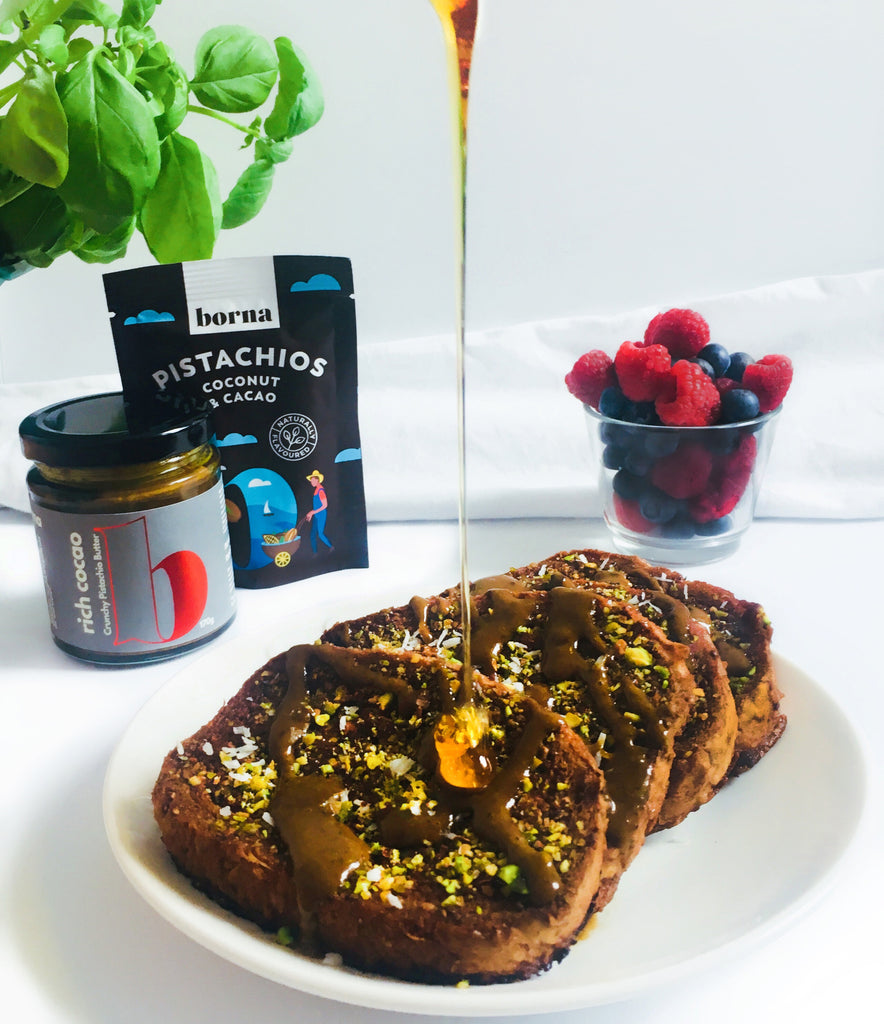 What is better than having an indulgent breakfast/ brunch in your pajamas on a lazy weekend? Our vegan pistachio french toast recipe is refined-sugar free, easy and quick to make, and most importantly, DELICIOUS! It is soft on the inside and crunchy on the outside, by topping with a generous amount of Rich Cacao Crunchy Pistachio butter, this vegan pistachio french toast brings the whole brunch experience to the next new level!
Nutritional Value (per serving- without toppings) |412.5 Kcal | 7g Fat | 3.55g Protein |1.05g Fibre | 0.55g sugar
Ingredients
For the Batter
♥ 1/2 cup mashed banana
♥ 1 cup plant-based milk
♥ 1/2 Tbsp chia seed
♥ 1/4 tsp cinnamon
♥ 4-5 slices Stale rustic bread
♥ 1/2 tsp vanilla extract
♥ 1/4 cup cacao powder
♥  1/2 tsp coffee powder
♥ 1 Pack Crushed Coconut & Cacao Flavoured Pistachio Kernels
For Toppings
♥ Fresh Berries
♥ Rich Cacao Crunchy Pistachio butter
Desiccated Coconut
For Frying
♥ Vegan Butter (for frying)
Instructions:
1.Mix chia seed, plant-based milk, cinnamon, coffee powder, cacao powder and vanilla extract in shallow baking dish. Let it sit for 5 minutes.
2.Preheat your pan to medium low heat. Once its hot, coat generously with vegan butter.
3.Dip the bread into the mix and let it sit for 20-30 seconds on each side. Dip the freshly-dipped sides in Crushed Coconut & Cacao Flavoured Pistachio Kernels for added texture. Place on the heated pan immediately.
4.Cook for 3-4 minutes on each side or until golden brown.
5.Serve warm with Rich Cacao Crunchy Pistachio Butter, fresh berries and desiccated coconut.
Please tag us in your delicious re-creation on Instagram or Facebook, we would love to see them! Use hashtag #nutsaboutborna to be featured!
Subscribe to our newsletter and follow us on Instagram & Facebook for more healthy recipes and product updates!
Gloria Cho, Marketing Executive at Borna Foods
---