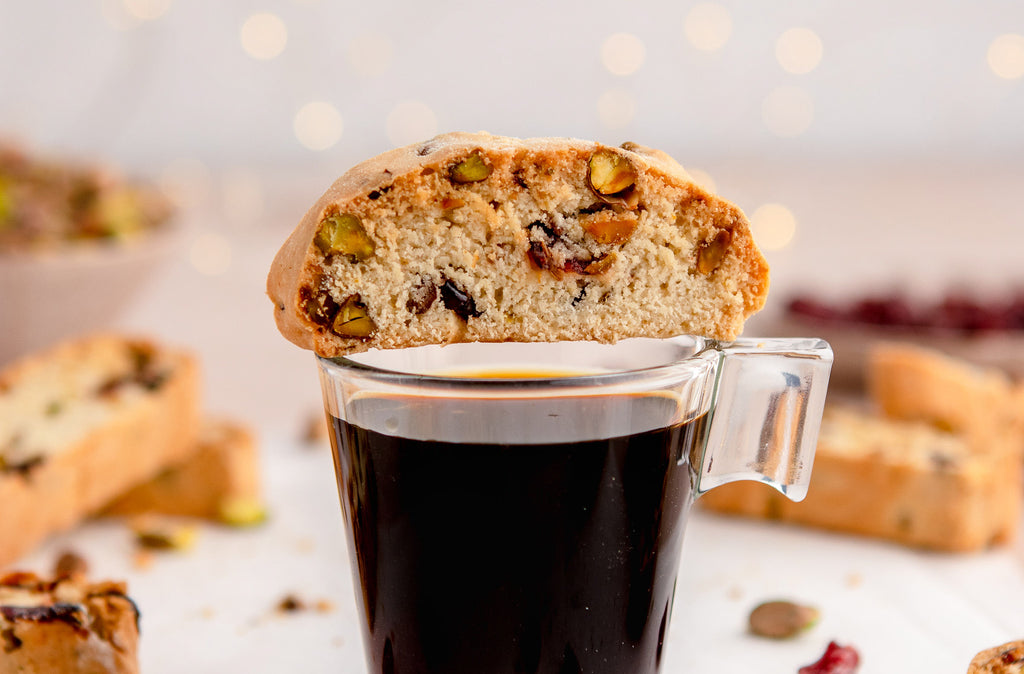 This brilliant recipe only take 40 mins to cook!
It's soo yummy, definitely a show stopper! The flavours from the sour cherries are sharp but when it's combined with the pistachios it creates a luscious flavourful dessert!
Directions
1. In a large bowl whisk together sugar, coconut oil and pistachio drink until smooth and combined.
2. Add in the flour and baking powder and stir until it forms a dough.
3. Add the pistachios and cherries and mix until they are evenly distributed.
4. Using your hands form a ball from the dough.
5. Divide the dough into 2 even pieces and shape each ball into a log.
6. Bake the logs at 160ºC for 30 minutes until slightly brown on top.
7. Let the logs cool down for 10 minutes and slice into diagonal slices about 1 cm wide.
8. Place the slices into a baking sheet and bake them in the oven at 140ºC for about 15 minutes.
9. Remove from the oven and let them cool down completely. You can drizzle biscotti with melted white chocolate if desired.
Ingredients
280 grams plain flour
120 grams caster sugar
30 ml coconut oil
80 ml pistachio drink
1 tsp baking powder
80 grams chopped pistachios
60 grams chopped dried cherries
Try this extremely easy Vegan pistachio & cherry biscotti recipe using our Natural Kernels Retail Packs, Dried Sour Cherries, , and let us know what you think! Tag us in your delicious re-creation on Instagram or Facebook! Use hashtag #nutsaboutborna to be featured!
Subscribe to our newsletter and follow us on Instagram & Facebook for more healthy recipes and product updates!