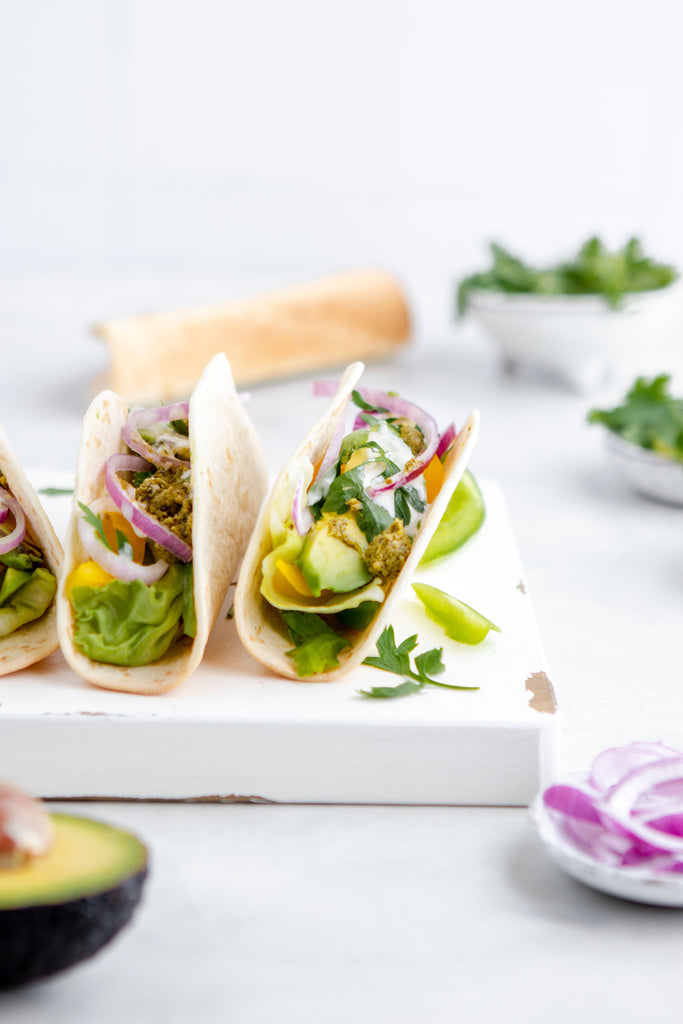 Let these Vegan Fajitas spice up your day. They are always a winner and as an added bonus they are incredibly easy to make. So start inviting your friends over and blow them away with these tasty Vegan Fajitas! 
Directions
1. Heat a large skillet and a medium skillet over medium heat.
2. Once hot add a dash of olive or coconut oil to the large skillet, then the onion and peppers. Season generously with salt, cumin and garlic powder.
3. Cook until softened. Set aside and cover to keep warm.
4. Prepare avocado-pistachio crema by adding avocados to a bowl then adding lime juice, pistachio pesto and a generous pinch of salt. Fresh coriander and onion are optional.
5. Warm tortillas in the microwave or oven and you're ready to go.
6. Top tortillas with vegetable mixture, avocado-pistachio crema, and any other toppings you desire such as coconut milk, fresh herbs, pesto etc.
Ingredients
1 Tbsp olive oil
2 medium bell peppers (thinly sliced)
Lettuce
1 medium red onion
Sea salt, cumin, & garlic powder
Crema:
1 medium ripe avocado
1 Tbsp lime juice
2 tsp pistachio pesto
6 small flour or corn tortillas
Fresh red onion
Fresh coriander
Try this extremely easy Vegan fajitas recipe using our and let us know what you think! Tag us in your delicious re-creation on Instagram or Facebook! Use hashtag #nutsaboutborna to be featured!
Subscribe to our newsletter and follow us on Instagram & Facebook for more healthy recipes and product updates!