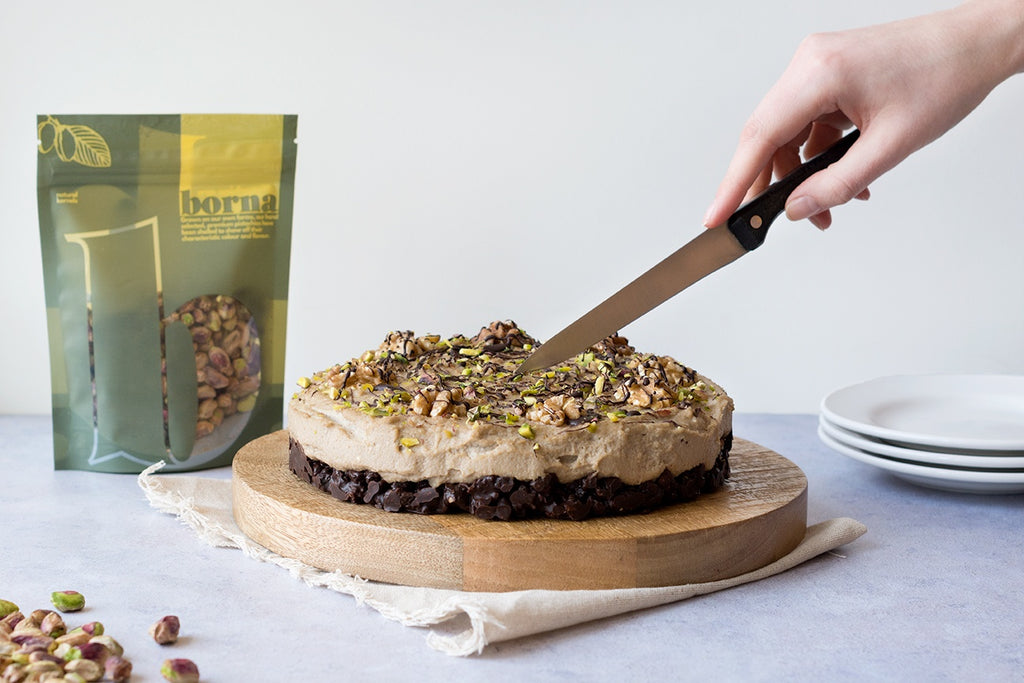 Here at Borna HQ we don't do things in halves we like to take everything with full force, especially when it comes to a celebration! TODAY IS WORLD PISTACHIO DAY…and my gosh we have a treat for you! This Vegan cheesecake is definitely for the coffee lovers, although of you more of a hot Chocolate person you can simply swap the 75ml coffee or 75ml hot Chocolate in the recipe! Join us and Indulge yourself on this great day celebrating such an amazing nut.
1 large cheesecake
Ingredients:
Base
150g Borna Pistachios Kernels (roughly chopped)
70g Walnuts (roughly chopped)
200g Dark chocolate
1/4 tsp Cinnamon
1 tsp Agave syrup
Pinch salt
Topping
460g Cashews
4 Medjool dates
75ml Espresso coffee
250ml Almond milk
8 halved walnuts
Small hand full Borna Pistachios Kernels (finely chopped)
20g Dark chocolate
Directions:
♥ Melt the dark chocolate with the cinnamon and agave syrup until completely smooth and runny
♥ mix the melted chocolate and roughly chopped pistachios and walnuts together
♥ Line the bottom of the cake tin with baking sheet paper. Make sure the bottom of the tin slides up so it's easier to remove the cheesecake.
♥ Transfer the chocolate mix into a cake tin and press the mixture into the bottom ensuring the bottom of the tin is completely covered and to the sides of the tin.
♥ Place in the fridge to set for 20 mins
♥ Meanwhile, chop the date roughly and add to a blender.
♥ Discard the water from the soaked cashews and put them in a blender. While blitzing slowly add the coffee and almond milk. Stop blitzing once the mixture is dense, thick and smooth (the smoothness can be checked by pinching a little mixture in between your fingers and rubbing them together. If the mixture is still grainy then carry on blitzing)
♥ Once the base is set, spoon the topping into the tin. Make sure the topping is evenly spread otherwise you'll have a wonky cake
♥ add the 8 walnuts on top and sprinkle the finely chopping pistachios to the top
♥ Melt the 10g chocolate until smooth and drizzle on top of the cheesecake by using a spoon
♥ Put in the fridge for 2 hours so the 'cheese'cake can become firm…then, it's time to scoff your face!
Have a nutty world pistachio day. Get 20% with the PROMO CODE 'worldpistachioday' – for a day only! Take a look at our shop for our delicious range of pistachio products. Don't forget to tag us with your creations using our hashtag #nutsaboutborna
Emma Langston, Content Writer at Borna Foods
---