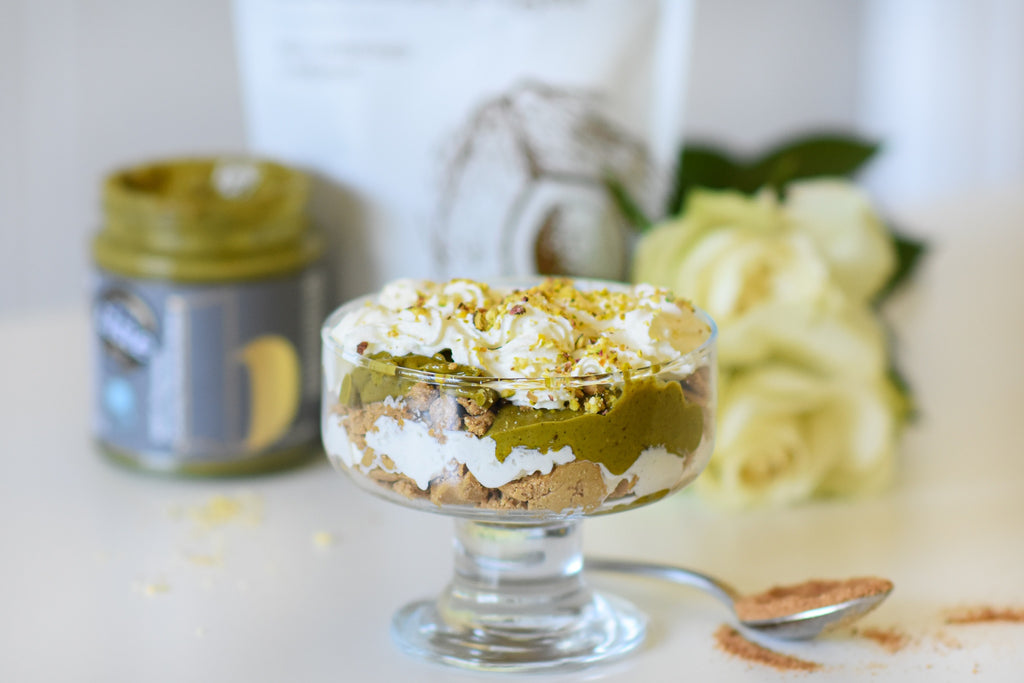 This Vegan Coconut Pistachio Halwa Trifle is a sweet dessert that is puffy, pretty and delicious. Let's not forget it's vegan and a healthy alternative dessert. Most important is that this trifle recipe is perfect for brunch parties and for bigger crowds.
This week we have collaborated with the Coconut Company and used their coconut flour and sugar to make a trifle. Have a look at the benefits of using coconut in your recipes:
·       The fatty acids in coconut can give your 'good' cholesterol a boost, giving your heart a helping hand.
·       The fats in coconut oil are primarily medium-chain triglycerides (MCTs). Some studies suggest these are used as immediate energy by your body as opposed to being stored. 
·       Certain studies suggest MCTs can be metabolised quickly by the body, which may make coconut oil responsible for being a fat-burning aid, as well as helping to reduce hunger.
·       Lauric acid in coconut oil has been shown to help your body kill off harmful bacteria, viruses and fungi.
Ingredients:
2 tablespoons

 

sugar
3 spoons of
1/2 cup

 

Natural Kernels
350ml tahini
125ml water
a pinch of salt
2  cans of full fat coconut milk
2 tablespoons  maple syrup 
3 tbsp

 

Crunchy 100% Pure Pistachio Butter
Vegan cream
Instructions:
For halva:
In a frying pan, toast

 

natural kernels

 

until fragrant over medium heat. Set aside to cool.
Combine sugar and water in a saucepan over medium heat, stirring to dissolve the Coconut sugar. Allow to simmer until the mixture starts to bubble, approx. 7 min.
Add tahini and salt to a bowl and beat with a hand mixer with beaters on medium speed. Carefully pour bubbling coconut sugar mixture into the tahini. Mix until it's fully incorporated and fudgy.
Transfer mixture immediately into a parchment paper-lined baking pan. Cover with toasted

 

pistachios

 

and let cool completely, approx 2 hrs.
For Trifle:
Prepare 2 glasses, add a few scoops of the vegan

 

pistachio

 

halwa mixture and press it a little down, top with

 

Crunchy 100% Pure Pistachio Butter

 

and with vegan cream. Repeat until the glasses are full.
The coconut pistachio halwa trifle must be stored in the refrigerator and will stay good for 3-4 days.
---