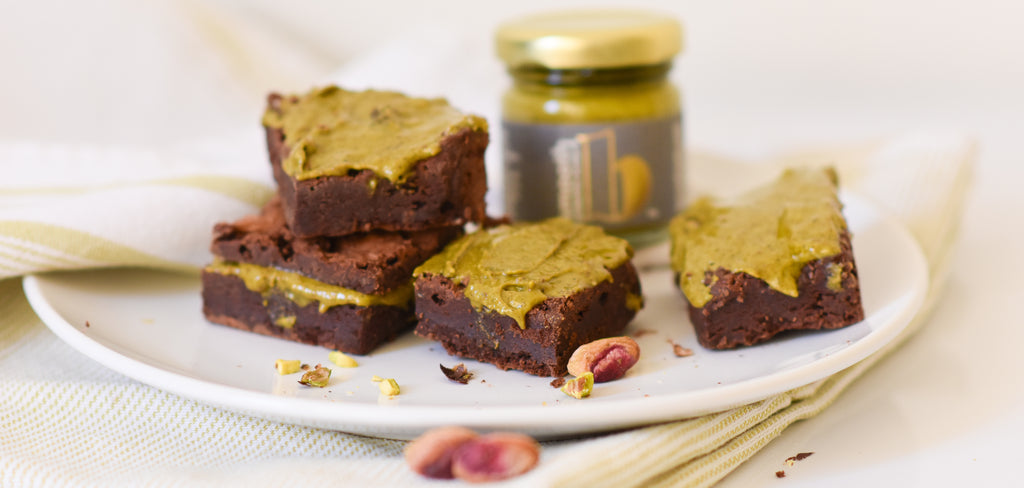 Vegan Chocolate Brownies with Pistachio Butter – celebrate the day in style!
Celebration of the day includes the consumption of chocolate. Therefore, we have gathered the best chocolate brownies recipe for you and your sweetheart.
♥ 1/2 cup Smooth 100% Pure Pistachio Butter
♥ 100g coconut oil
♥ 125 g all purpose flour
♥ 350g caster sugar
♥ 1/2 tsp sea salt
♥ 1/2 tsp vanilla extract
♥ 200g milk chocolate
♥ 90g cacoa powder
Instructions
Preheat the oven to 180 C. Line a small square tin with baking parchment.
Melt your coconut oil on the hob or in the microwave until completely melted. Set aside to cool.
Mix all of your dry ingredients together in a large mixing bowl. You can also add some Natural Kernels for a more crunchy texture.
Add the melted cooled butter into your bowl and stir in gently.
Fold in the vanilla and chocolate chunks. Pop into your lined tray.
Bake in the preheated oven until a skewer inserted about 5cm from the side of the pan comes out clean, about 30 minutes.
When cooled, slice into even squares.
Put some

 

Smooth 100% Pure Pistachio Butter

 

and enjoy!
Try our Vegan Chocolate Brownies made with our Smooth 100% Pistachio Butter on this amazing World Chocolate Day and let us know what you think! Tag us in your delicious re-creation on Instagram or Facebook! Use hashtag #nutsaboutborna to be featured!
Subscribe to our newsletter and follow us on Instagram & Facebook for more healthy recipes and product updates!
Inesa Slevaite, Marketing Executive at Borna Food
---