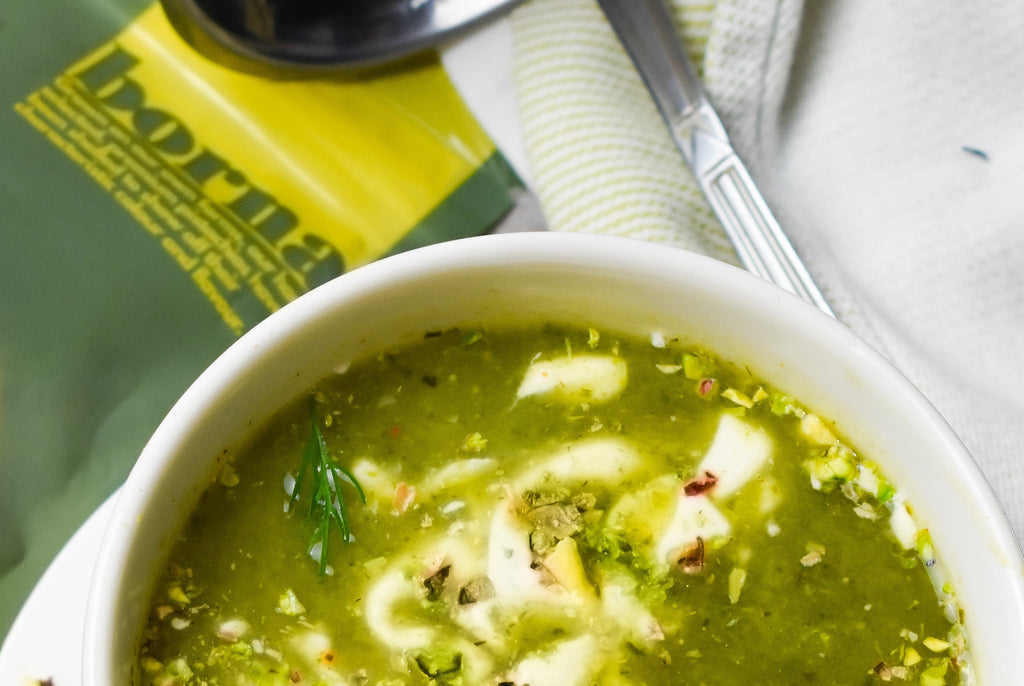 Need warming up? A bowl of warming soup is the best comfort food on a cold day. Bring a fresh batch of bread to go with your soup for an easy midweek dinner or heat up for a quick lunch.
Check out this easy vegan soup recipe with broccoli, spinach and Natural Pistachio Kernels.
Nutritional Value (per serving) | 114 Kcal |7.1g Fat | 5.7g Protein | 4g Fibre |3.3g sugar|
Ingredients
♥ 1 broccoli
♥ 1 tbsp. olive oil
♥ 100g spinach leaves
♥ salt and pepper to taste
♥ 1 tbsp. crushed Natural Kernels
♥ 4 potatoes
♥ 600 ml chicken stock
Instructions
Fry the onion/spring onions and chopped garlic for 7 minutes in olive oil over low heat until tender and sweet, but not browned.
Boil water and make the vegetable stock with a good quality stock cube. Put some

 

Natural Pistachio Kernels

 

inside the stock so they can soften.
Place the potatoes into the stock and let it simmer for 20 minutes.
Fry the broccoli and spinach for 4 minutes and then put everything into the stock. Leave it to simmer for a while.
Set aside a couple of small broccoli florets for decorating if you wish.
Blend the mixture until smooth with the blender.
Season to taste with salt (if needed) and pepper.
Decorate with a swirl of sour cream.
Drizzle some

 

Natural Kernels

 

on the top.
This quick and easy family-friendly recipe is packed with punchy flavour and comes in under 150 calories. Enjoy!
Try our easy vegan broccoli pistachio soup with spinach recipe and let us know what you think! Tag us in your delicious re-creation on Instagram or Facebook! Use hashtag #nutsaboutborna to be featured!
Subscribe to our newsletter and follow us on Instagram & Facebook for more healthy recipes and product updates!
Inesa Slevaite, Marketing Executive at Borna Food
---