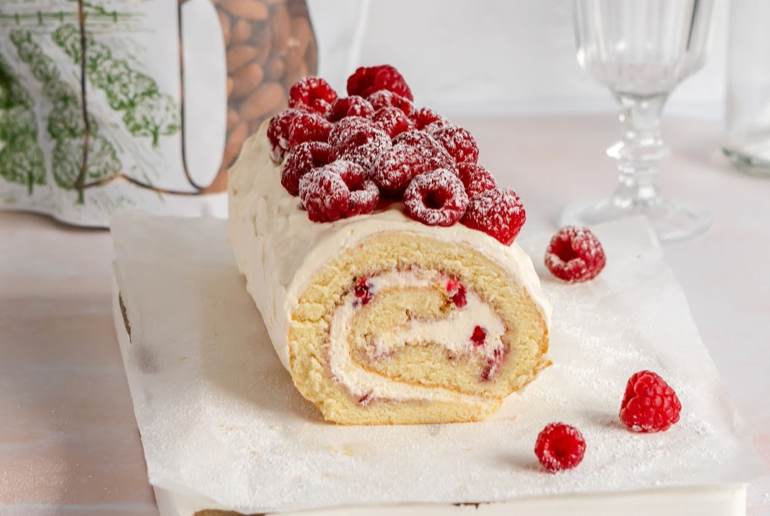 A nod to the classic childhood favourite, this raspberry Swiss roll combines light chocolate sponge cake with vegan cream. Rich and totally irresistible, this dessert is for sweet lovers everywhere. Follow this carefully explained step-by-step recipe to surprise your mother with this lovely dessert!
Directions
1. Combine all your dry ingredients in a bowl and mix.
2. Add the rest of the ingredients and mix well using a hand mixer or balloon whisk for 2-3 minutes.
3. Transfer to greased and lined baking tray and bake at 170C for 12-15 minutes.
4. As soon as it comes out, remove from pan and cover for 1 minute.
5. Use parchment paper or a clean kitchen towel to tightly roll the cake.
6. Let it cool for at least 1 hour.
7. In the meantime, prepare the filling. Mix the cream, cheese, coconut cream and icing sugar in a bowl until smooth and combined.
8. Divide the filling into 2 bowls.
9. To one bowl gently fold the mashed fresh raspberries.
10. Unroll the sponge cake so that it lays completely flat on top of the linen. Using an offset spatula, spread the raspberry jam into a very thin layer over the entire surface of the cake.
11. Spread the raspberry whipped cream onto the cake - directly on top of the raspberry preserves - leaving a ¾-inch border on all sides.
12. Add some raspberries evenly onto the raspberry cream layer, gently pressing them into the cream.
13. Carefully roll the cake - short end to short end - into a tight spiral.
14. Set the cake onto a long serving platter and refrigerate the cake for a minimum of 1-2 hours to allow the cream to set.
15. Using an offset spatula, spread the second part of the filling into an even, smooth layer on the outside of the rolled sponge cake.
16. Top the cake generously with the raspberries and serve.
Ingredients
Cake:
150g all-purpose flour
50g almond (blended into fine, powdery flour)
50g corn-starch
1 tbsp flax seed meal
180ml almond milk
50ml coconut oil
60ml aquafaba - whipped
1 tsp baking powder
½ tsp baking soda
1 tsp apple cider vinegar
2 tsp vanilla extract
100g powdered sugar
Filling:
250 g vegan cream cheese
130 g coconut cream
50 g icing sugar
100g fresh raspberries (mashed) + more for topping
160g raspberry jam
Try this extremely easy Swiss roll - Happy Mother's Day! recipe using our Whole Almond Nuts, and let us know what you think! Tag us in your delicious re-creation on Instagram or Facebook! Use hashtag #nutsaboutborna to be featured!
Subscribe to our newsletter and follow us on Instagram & Facebook for more healthy recipes and product updates!