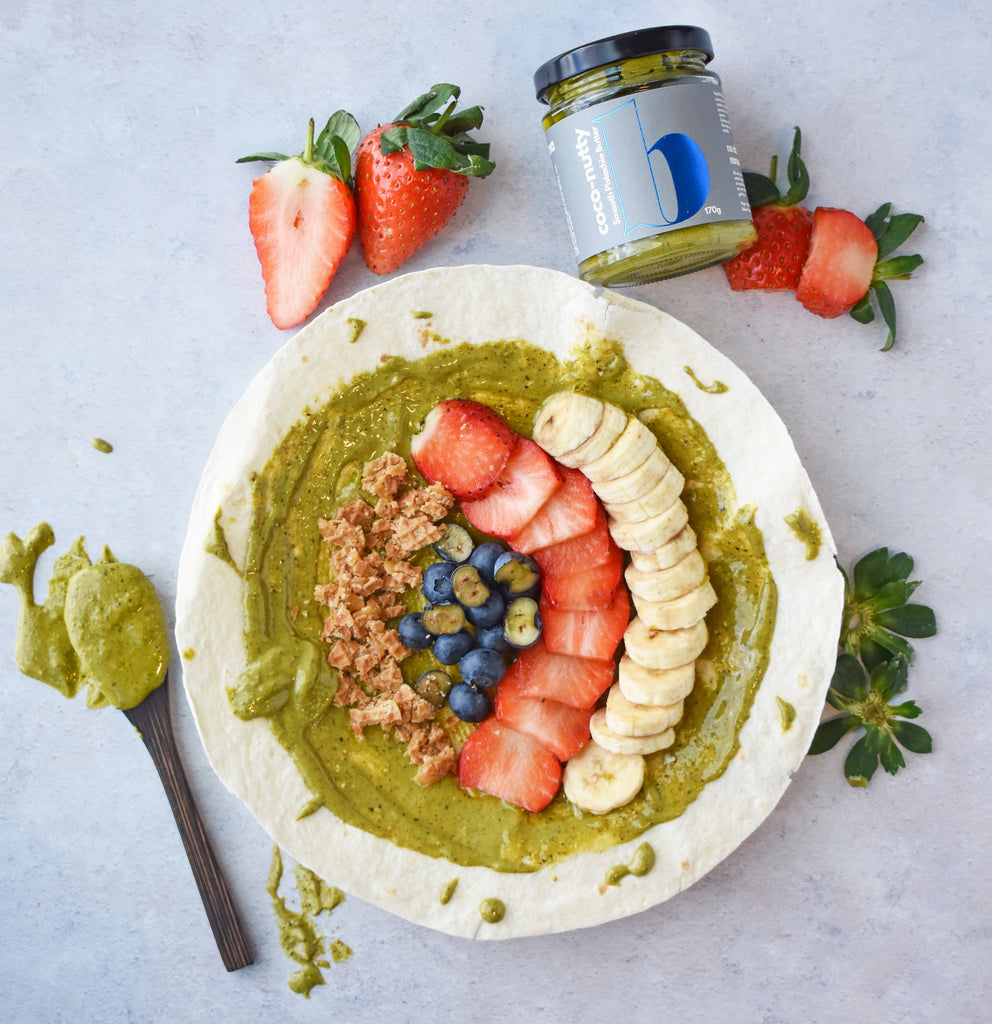 Wrap up sliced bananas, blueberries, strawberries, Coco-Nutty Smooth Pistachio Butter and little pieces of stroopwafels in vegan flour tortillas. Is it a fun weekday lunch, a great afternoon snack or a simple indulgent dessert? You can decide.
Nutritional Value| 345 Kcal |8g Fat | 11.3g Protein |0.6g Salt|27.7g Sugar
Ingredients
♥ ½ cup Smooth Coco-Nutty Pistachio Butter
♥ 2 whole wheat or regular vegan flour tortillas (8 to 10 inches in diameter)
♥ 2 small bananas, sliced
♥ ½ cup blueberries, sliced
♥ ½ cup strawberries, sliced
♥ ½ cup crushed stroopwafels, if desired
Instructions
Spread 2 tablespoons of the

 

Smooth Coco-Nutty Pistachio Butter

 

evenly over each tortilla. Top with banana slices, strawberries, blueberries, and pieces of stroopwafels.
Roll up tortillas. Secure with toothpicks.
This brilliantly quick recipe is easy to make in the morning before work, school, university and will fuel your body in the right way. Blueberries, strawberries, and bananas are a fantastic choice here, but feel free to swap in your favourite fruit, or whatever you have at home. Enjoy!
Try this easy Vegan Breakfast Wrap with Coco-Nutty Pistachio Butter recipe. Let us know what you think! Tag us in your delicious re-creation on Instagram or Facebook! Use hashtag #nutsaboutborna to be featured!
Subscribe to our newsletter and follow us on Instagram & Facebook for more healthy recipes and product updates!
Inesa Slevaite, Marketing Executive at Borna Food
---