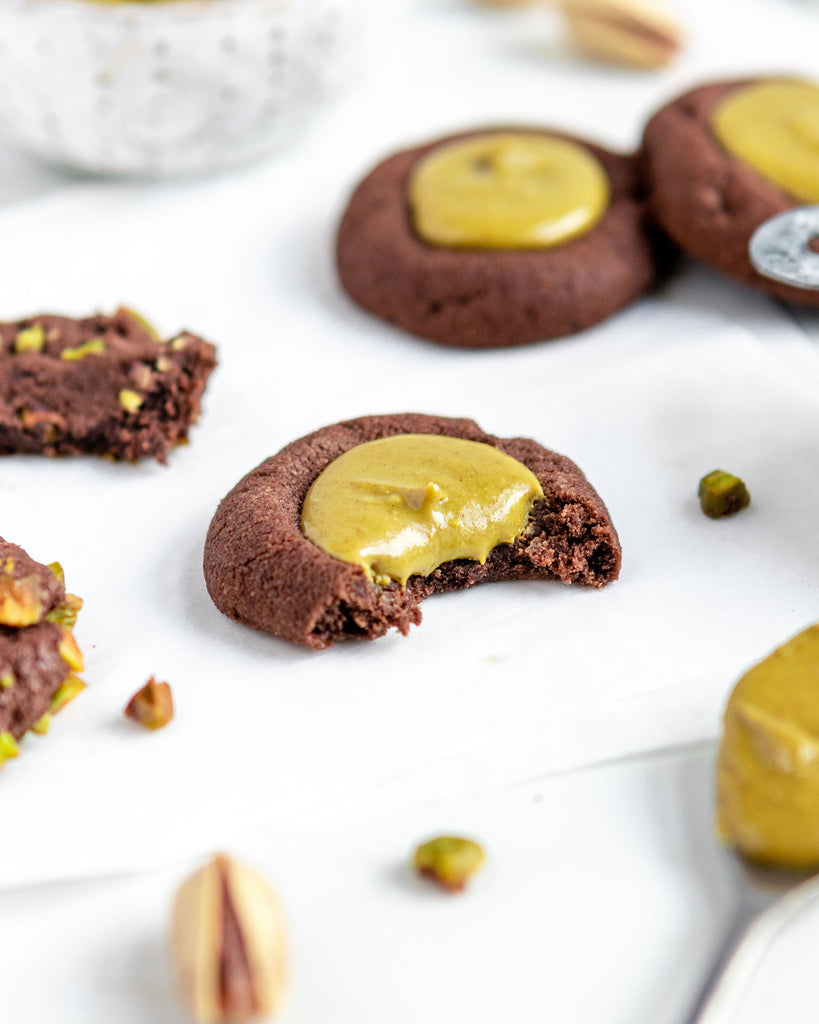 Treat yourself to these delicious thumbprint cookies filled with creamy pistachio butter!
Directions
1. Preheat the oven to 180C and line large cookie sheet with parchment paper.
2. In a bowl mix together the coconut oil, milk and sugar until combined.
3. Add the flours and baking powder. Mix well until combined.
4. Roll the dough in small balls and place on the prepared cookie sheet. Optionally roll half of the balls in chopped pistachios before placing on the cookie sheet.
5. Flatten the cookies slightly with your thumb.
6. Bake the cookies for 10 minutes until edges are slightly darker.
7. Remove from the oven and let it cool completely.
8. Fill the cooled cookies with pistachio butter.
9. Optionally you can melt the shite chocolate and mix it with the pistachio butter and use it as a filling.
Ingredients
170g plain flour
80g almond flour
80g coconut/caster sugar
25g unsweetened cacao powder
80ml coconut oil
80ml pistachio/almond/soya/oat milk
1 tsp baking powder
Pistachios for cover
Pistachio Filling:
50g Pistachio Butter
Optional: add 50g melted white chocolate
Try this extremely easy Vegan pistachio thumbprint cookies recipe using our and let us know what you think! Tag us in your delicious re-creation on Instagram or Facebook! Use hashtag #nutsaboutborna to be featured!
Subscribe to our newsletter and follow us on Instagram & Facebook for more healthy recipes and product updates!