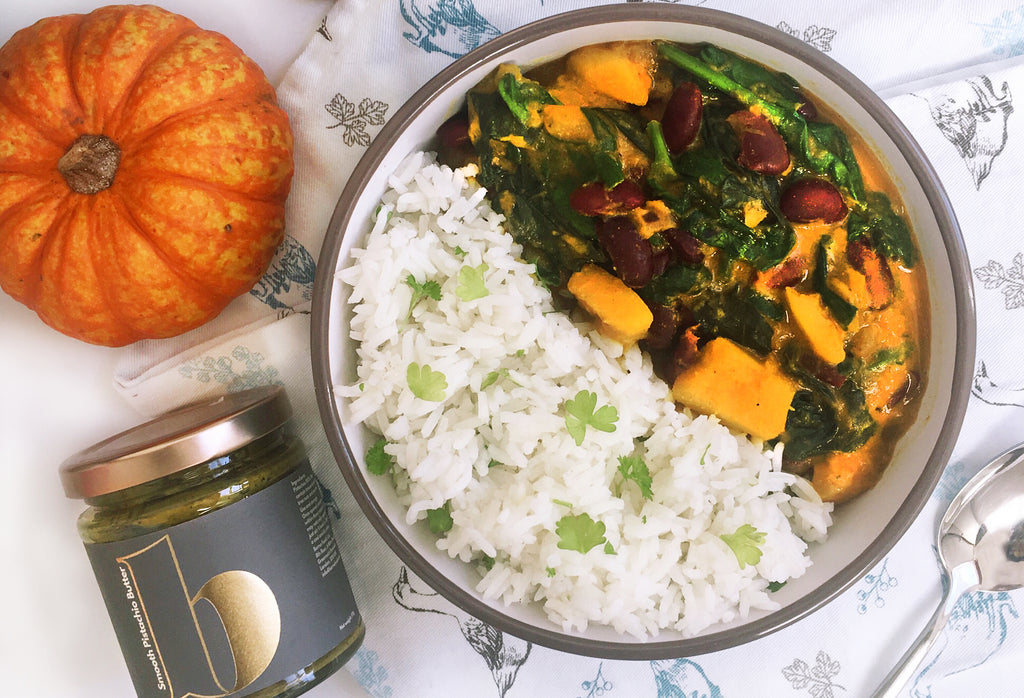 A rich and creamy ONE POT vegan pistachio pumpkin spinach curry dish that comes together in under 30 minutes. It is full of fibre, high in protein and low in calories, ideal to serve with a side of basmati rice, quinoa or cauliflower rice. Who needs takeaway when making your own curry is that healthy, quick and easy?
Also, the Smooth 100% Pure Pistachio Butter add extra creaminess to this curry, making it richer and silkier than your normal curry, I mean, what not to love?
Nutritional Value (per serving) |369 Kcal | 16.3g Fat | 19.4g Protein | 14.7g Fibre |10.7g sugar |
Ingredients:
♥ 1 1/2 cup pumpkin cubes
♥ 1 can Red Kidney Beans
♥ 4 cups Spinach
♥ 3 tbsp Korma Paste
♥ 1/2 can Coconut Milk
♥ 1 1/2 cup Vegetable Stock
♥1/2 Onion
♥1/2 tbsp Minced Garlic
♥1/2 tbsp Olive Oil
♥ 1/4 cup Smooth 100% Pure Pistachio Butter
♥1/2 tbsp Turmeric
♥ Salt to Taste
♥ Roast & Salted Pistachio Kernels
Instructions:
1. Add olive oil, garlic and onion in a pan on medium heat, cook for 3-5 minutes until garlic and onion are soft and golden.
2. Now add the Korma paste, frying on high heat for 1-2 minutes until aromatic.
3. Stir in the vegetable stock, coconut milk, and pumpkin cubes. Cover and let it simmer on medium heat for 10-15 minutes.
4. Mix in washed and drained red kidney beans, cook for further 5 minutes.
5. Lastly, add in spinach, cook until wilted.
6. Remove the pan from the heat, mix in the turmeric and Smooth 100% Pure Pistachio Butter. Season with salt. Top with Roast & Salted Pistachio Kernels. 
Recreate this pistachio pumpkin spinach curry recipe and tag us in on Instagram or Facebook, we would love to see your photos! Use hashtag #nutsaboutborna to be featured!
Also, don't forget to subscribe to our newsletter and follow us on Instagram & Facebook for more healthy recipes and product updates!
Gloria Cho, Marketing Executive at Borna Foods
---