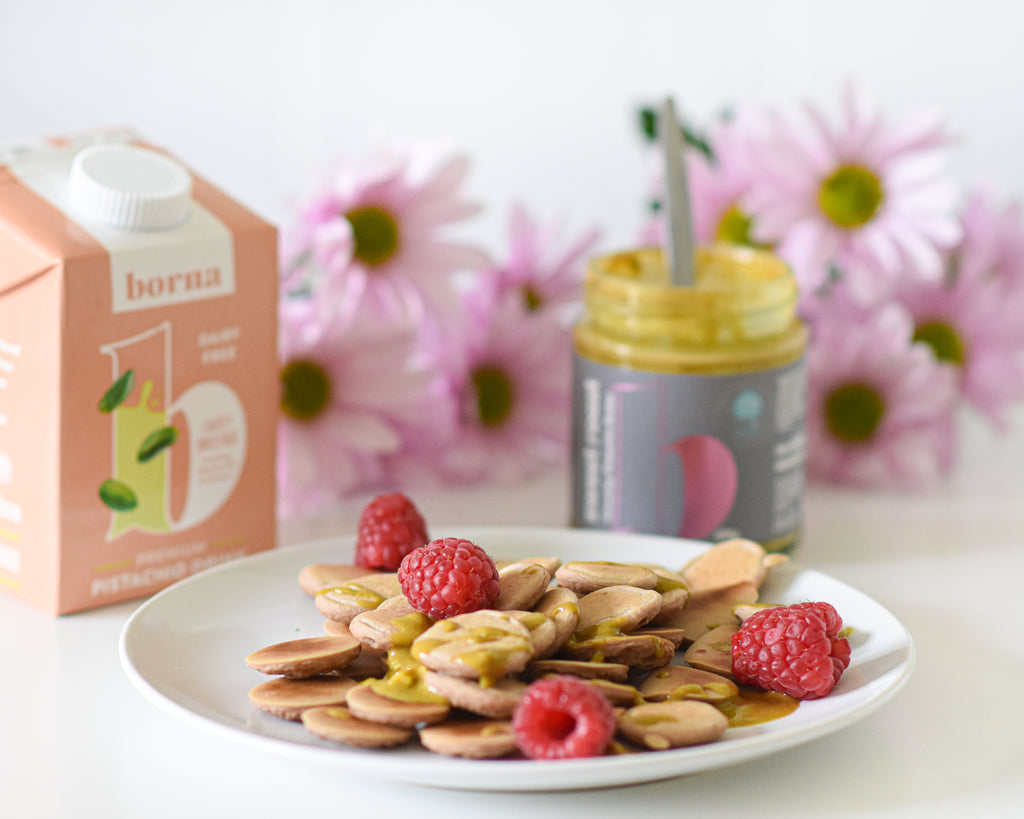 Best pistachio pancake cereal recipe we can guarantee. Combining two of the best foods – how can you go wrong? 🤷🏼‍♀️ Drizzled with plenty of our Pistachio Butter and some Pistachio Mylk – YUM! Would you try it?
Ingredients:
3/4 cup

 

Lightly Sweetened Pistachio Drink
150g plain flour
1 tsp brown sugar
1 tsp baking powder
1 tbsp cacao powder
2 tbsp

 

Sweet Roast Pistachio Drink
Instructions:
Mix all dry ingredients – plain flour, sugar, baking and cacao powders in a large bowl.
Pour all wet ingredients such as our

 

Lightly Sweetened Pistachio Drink

 

into dry and whisk until no clumps.
Pour pancake batter into a piping bag or a condiment squeeze bottle.
Heat pan to medium high heat and grease with butter.
Squeeze little small pancake dots and cook until top is dry and forms bubbles.
Toss the pancakes with a spatula and cook for a few more minutes.
Occasionally toss the pancakes around to help cook more evenly.
Once finished, add some

 

Sweet Roast pistachio butter

 

and raspberries on a top. You can also pour in some

 

pistachio mylk.
Try our Pistachio Pancake Cereal recipe using our Lightly Sweetened Pistachio Drink and Sweet Roast Pistachio Butter and let us know what you think! Tag us in your delicious re-creation on Instagram or Facebook! Use hashtag #nutsaboutborna to be featured!
Subscribe to our newsletter and follow us on Instagram & Facebook for more healthy recipes and product updates!
Inesa Slevaite, Marketing Executive at Borna Food
---