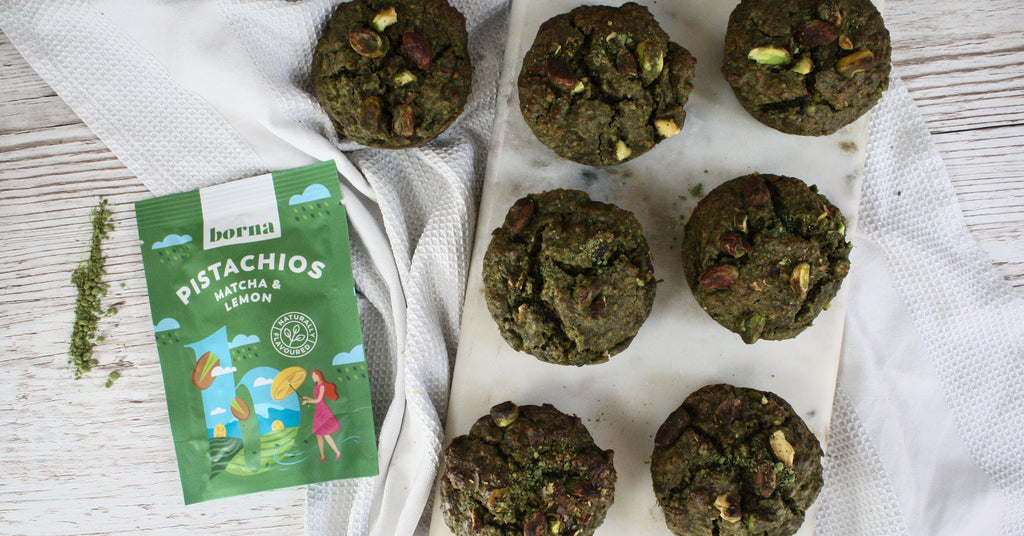 Making time for a nutritious breakfast or snack can be difficult, that's why we've combined a little morning pick-me-up with nourishing pistachios to create a muffin that will satisfy and energize you! These muffins are PACKED with nutrients and are very subtly-sweet, if you like a sweeter muffin, try adding in a touch more agave!
12 Muffins
Ingredients:
♥ 1 c. Natural Pistachio Kernels 
♥ 2 1/2c Rolled Oats (Gluten Free if necessary)
♥1 tsp Baking Soda
♥1 tsp Baking Powder
♥pinch Salt
♥1/4c. Maple Syrup or Agave Syrup
♥2 Large Eggs
♥1/4 c.Coconut Oil, Melted
♥1 tsp Vanilla Extract (Gluten Free if necessary)
♥1 1/4c Non Dairy Milk
♥1 tsp Lemon Juice
♥1 1/2 tsp Matcha Green Tea Powder
♥ Packet Matcha & Lemon Naturally Flavoured Kernels
Instructions:
♥ Preheat the oven to 170°C
♥  Grease a muffin tin with oil, set aside.
♥  In a food processor or blender, grind pistachio kernels until a fine powder. Transfer ground pistachios to a medium bowl. Using the blender, grind the rolled oats until they resemble flour. Add to ground pistachio meal.
♥ Add Baking Soda, Baking Powder and salt to oat and pistachios, mix well.
♥ In another bowl, whisk syrup, eggs, coconut oil, milk, vanilla and matcha until combined
♥  Add the wet mixture to dry, mix until incorporated.
♥  Evenly divide batter into muffin tins and top with chopped 1/4 c. pistachios, bake for _____
There are so many ways to use nutritiously delicious pistachios in your bakes, share yours using the hashtag  #nutsaboutborna when posting on Instagram.
Gloria Cho- Marketing Executive at Borna Foods
---