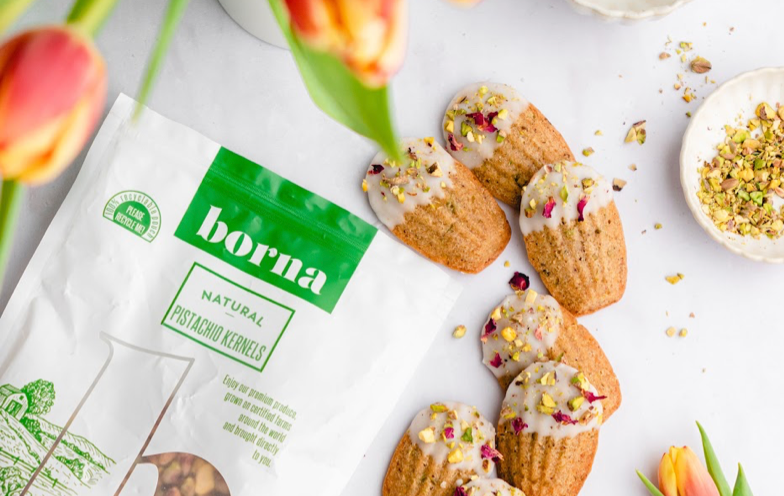 These yummy madeleines serve 12 and only take 30 mins to prep with a total cooking time of 45 minutes!
Directions
1. In a large mixing bowl, combine almond flour, plain flour, sugar, baking powder, salt, and lemon zest.
2. In a separate bowl whisk together wet ingredient. Then pour wet ingredients to dry.
3. Gently mix until just combined.
4. Refrigerate the batter for at least 20-30 minutes.
5. Brush madeleine pan with melted vegan butter or coconut oil.
6. Preheat oven to 170ºC.
7. Pour batter into moulds using a piping bag or two teaspoons.
8. Bake at 170ºC for 18-20 minutes until edges begin to become a little golden.
9. Allow madeleines to cool slightly and transfer to a cooling rack to cool completely.
10. Prepare the glaze by mixing the powder sugar with lemon juice.
11.Dip the tips of the madeleines in the prepared glaze and decorate with chopped pistachios. Alternatively, dip them in chocolate and decorate with pistachios.
Ingredients
100 grams plain flour
45 grams ground pistachios (well ground to have fine texture)
50 grams coconut or caster sugar
40 ml melted coconut oil
120 ml pistachio m*lk
1 tsp vanilla bean paste
Glaze:
120 grams powder sugar
2-3 tbsp lemon juice
Or Chocolate:
100 grams chocolate
1 tbsp coconut oil
Try this extremely easy Pistachio madeleines recipe using our , Natural Kernels Retail Packs, and let us know what you think! Tag us in your delicious re-creation on Instagram or Facebook! Use hashtag #nutsaboutborna to be featured!
Subscribe to our newsletter and follow us on Instagram & Facebook for more healthy recipes and product updates!