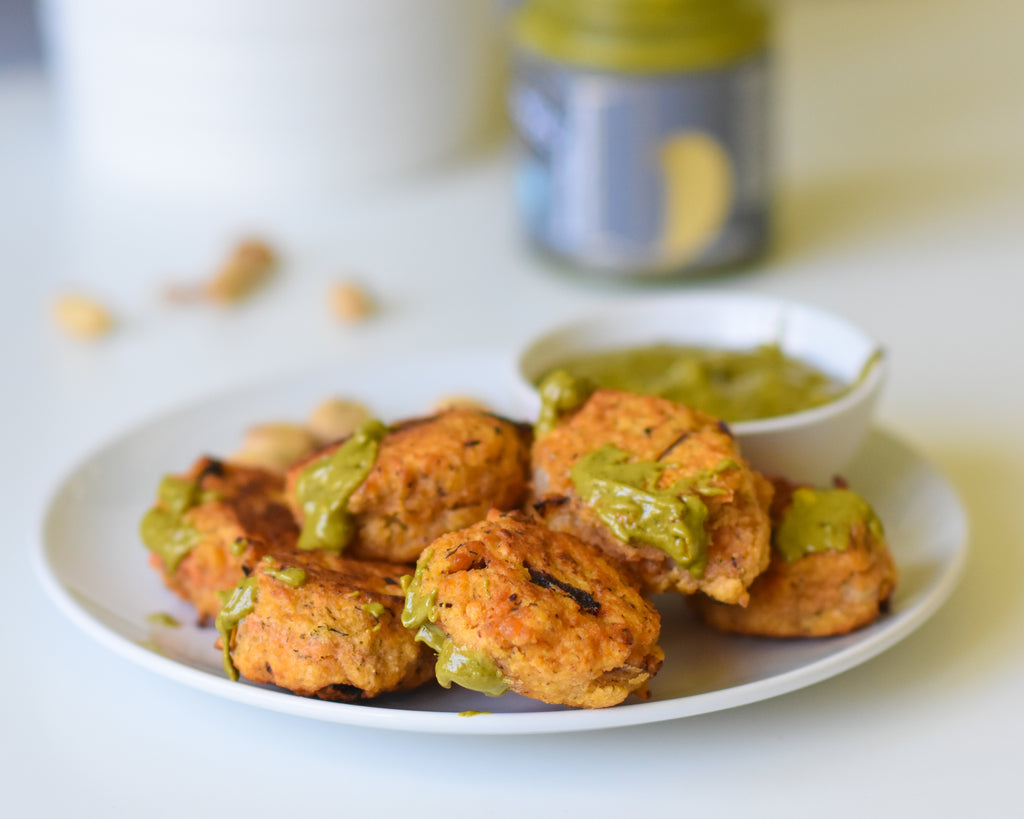 These fritters have to be without a doubt one of the most consumed snacks during Ramadan.
These crunchy pistachio lentil fritters called Dali Bora is a healthy vegan recipe that makes a perfect meatless Ramadan recipe. It's easy to make and vegan! It takes less than an hour to make and is packed full of delicious flavours.
Ingredients:
1.5 cups of red split lentils, make sure to soak them 2-3 hours before so they should expand in size
water (if needed to aid blending)
5 green chillies
⅓ of a bunch of coriander
2 medium onions
1 – 1.5 tsp oil for frying
a pinch of salt and pepper
50 g

 

Natural Kernels
3 spoons of

 

Pure 100% Crunchy Pistachio Butter
Instructions:
Chop 2 onions,

 

Natural Kernels

 

and a bunch of coriander.
Slice green chillies in small pieces to make sure it distributes the heat (chilli) evenly.
Drain the excess water from the lentils and blend in a blender/food processor till smooth.
Place all the ingredients in a large mixing bowl and add salt and pepper.
When you're ready to fry, heat a large pan/wok with oil. Using fresh oil results in crispy tasty Dali Bora.
Prepare a colander with some kitchen towel to drain your Dali Bora on before you start.
Carefully drop about 1 tsp of the Dali Bora mixture at a time into the oil and deep fry.
Fry them over a medium heat so that the inside cooks through till they are a golden brown colour on the outside. Transfer the cooked Boras onto some kitchen paper once cooked.
Enjoy your Pistachio Lentil Fritters with a bowl of sweet chilli sauce or like us – with Crunchy pistachio butter! These are perfect for Iftar during Ramadan, when entertaining guests or as a general snack.
Try our Pistachio Lentil Fritters recipe using our 100% Crunchy Pistachio Butter and Natural Kernels and let us know what you think! Tag us in your delicious re-creation on Instagram or Facebook! Use hashtag #nutsaboutborna to be featured!
Subscribe to our newsletter and follow us on Instagram & Facebook for more healthy recipes and product updates!
Inesa Slevaite, Marketing Executive at Borna Food
---