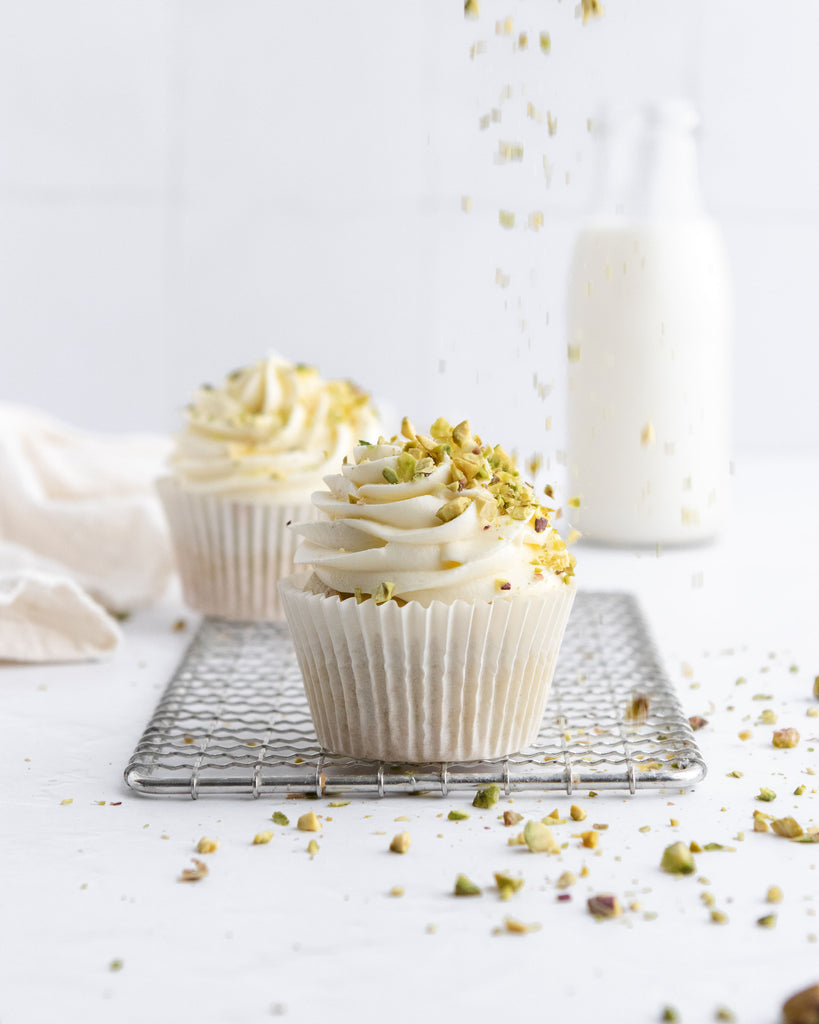 Do yourself a favour and make these delicious pistachio cupcakes. They are perfect for sharing, so bring them along as a treat to meet friends and family this weekend! 
Directions
Add the pistachios to a large bowl, cover with water and let them soak for 3-6 hours.
Preheat oven to 350F / 160C degrees.
In a 2 bowl add the milk, sugar, oil and vanilla, stir to combine.
In a separate mixing bowl, mix the flour, baking powder and salt.
Pour the wet mixture into the dry mixture and mix until just combined. Don't overmix.
Add in the chopped pistachio and gently fold them into the batter.
Fill each muffin lined hole with batter.
Place in the oven and bake for 20-25 minutes. Let cool and in the meantime make frosting.
Beat the butter until smooth and fluffy. Add the vegan cream cheese together with an electric mixer for a few minutes until smooth and fluffy, then beat in the lemon juice.
Sift in the powdered sugar and the vanilla and beat for a few minutes until smooth and fluffy.
Add the frosting to piping bag and top your muffins.
Top with chopped pistachios and enjoy.
Ingredients
250g all-purpose or whole wheat flour
2 teaspoons baking powder
250ml pistachio drink
1 teaspoon vanilla extract
50g chopped pistachios
80 ml vegetable oil
120g golden caster sugar
Frosting:
115g vegan butter
225g vegan cream cheese
1 teaspoons lemon juice
300g powder icing sugar
1 teaspoon vanilla extract
Chopped Pistachios
Try this extremely easy Pistachio cupcakes recipe using our , and let us know what you think! Tag us in your delicious re-creation on Instagram or Facebook! Use hashtag #nutsaboutborna to be featured!
Subscribe to our newsletter and follow us on Instagram & Facebook for more healthy recipes and product updates!