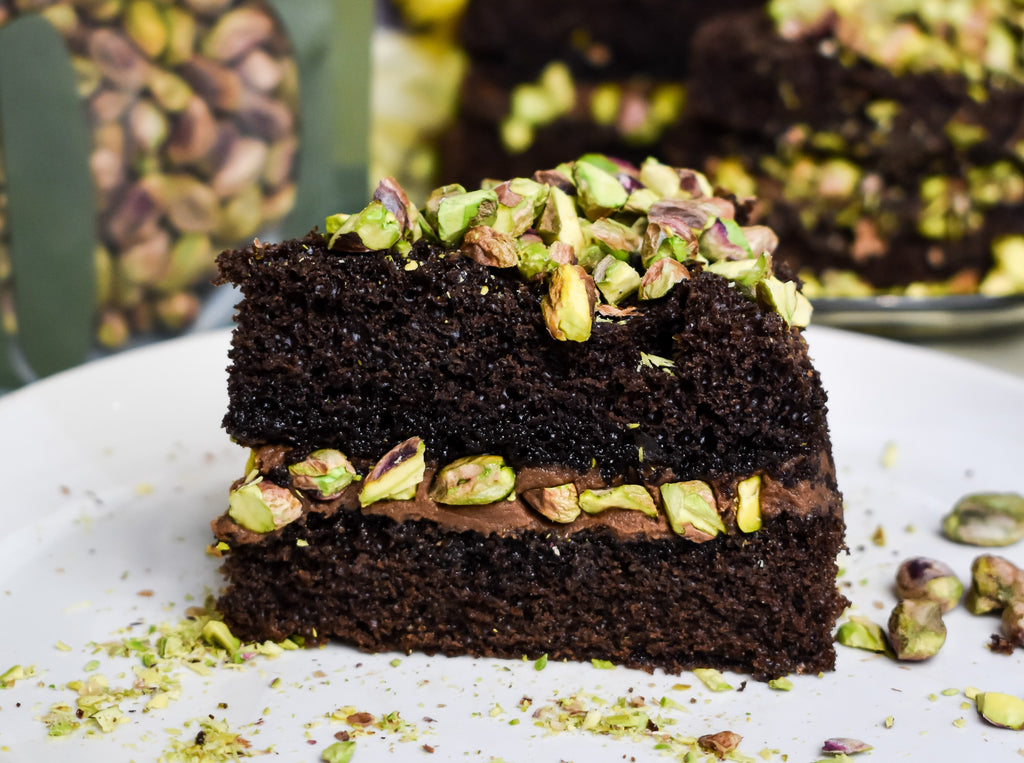 Happy Chocolate Cake day EVERYONE! It's the perfect excuse to enjoy that slice you've been dreaming of. Come and treat yourself to some of our delicious pistachio chocolate cake made with our Natural Pistachio Kernels.
Nutritional Value (per 100 grams) | 371 Kcal |15g Fat | 5g Protein | 1.6g Fibre |25.6g sugar|
Ingredients for batter:
♥ 1 ½ cups flour
♥ 1 ½ cups sugar
♥ 2/3 cups cacao
♥ 1 tsp baking powder
♥ 2 tsp baking soda
♥ 1 tsp salt
♥ Natural Kernels
♥ 2 eggs
♥ 1 tsp vanilla
♥ 1 cup buttermilk
♥ 2/3 cup coffee
♥ ½ cup vegetable oil
Instructions
Preheat the oven to 350 degrees. Grease two pans with butter.
Combine dry ingredients in a large bowl and whisk together until smooth.
In a small bowl whisk together all the wet ingredients.
Add the wet ingredients to the dry ingredients and beat with an electric mixer on low speed for 1 minute.
Divide the batter among the two pans.
Bake the cakes for 30 minutes. They are done when a skewer inserted in comes out clean. Let the cakes cool before turning out into wire racks.
Evenly cut the domed tops off the cakes. Set aside.
Ingredients for chocolate buttercream:
♥ ½ cup unsalted softened butter
♥ 1 cup icing sugar
♥ 1 tsp vanilla
♥ 60g dark chocolate
♥ 2 tbsp whipping cream
Instructions:
Over a double boiler melt the chocolate until smooth. Set aside to cool.
In a medium bowl beat the butter until smooth.
Add the icing sugar, beat until light and fluffy.
Add the slightly cooled chocolate and vanilla, beat until fully incorporated.
Add the whipping cream.
To assemble the cake, place your first layer on your plate.
Place the chocolate buttercream on top and spread evenly. Sprinkle with some Natural Kernels.
Add the next layer and place your cake in the fridge for 15 minutes before the outside coating. 
Once cooled spread a very thin layer of buttercream around the whole cake. For this cake look we stopped here. This is a "semi-naked cake", but if you prefer a regular cake just spread a thicker layer of chocolate buttercream along the outside of the cake.
Once you're happy with how it looks, pop it in the fridge to firm up.
Finish the cake off by sprinkling on chopped Natural Kernels. Enjoy!
Try our pistachio chocolate cake recipe and let us know what you think! Tag us in your delicious re-creation on Instagram or Facebook! Use hashtag #nutsaboutborna to be featured!
Subscribe to our newsletter and follow us on Instagram & Facebook for more healthy recipes and product updates!
Inesa Slevaite, Marketing Executive at Borna Food
---