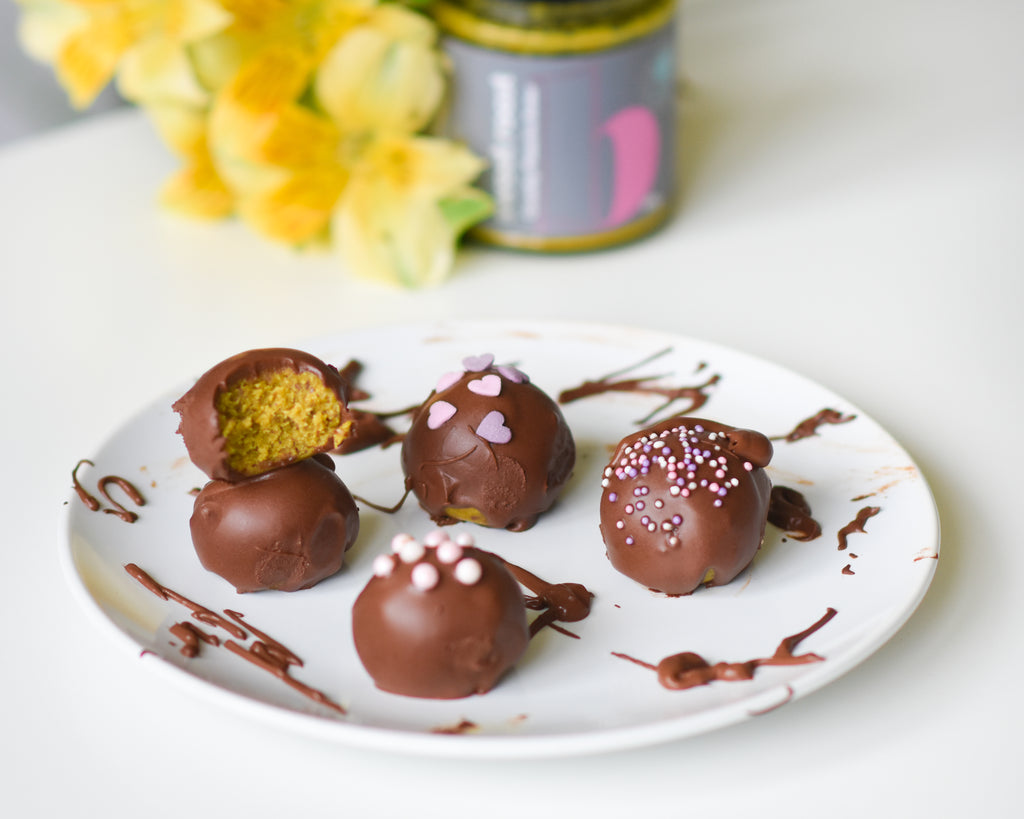 Happy Friyay to all you wonderful nutty humans! Do you feel that you fancy an indulgent snack at the moment? So do we! This time we have the perfect vegan pistachio butter truffle recipe for you using our very own Sweet Roast Pistachio Butter. Enjoy!
Ingredients:
1/2 cup unsalted vegan butter, softened
1 cup (250g)

 

Sweet Roast Pistachio Butter
1 tsp vanilla extract
1/8 tsp salt
300g dark chocolate, chopped
1 cup coconut flour
Instructions:
Using a handheld mixer, beat the vegan butter until creamy.
Add the

 

Sweet Roast Pistachio Butter, vanilla, and a little bit of salt, and beat until smooth and combined.
Add the coconut flour spoon by spoon, and beat on low until combined. The mixture will be crumbly, but you should be able to roll into balls.
Roll the dough mixture into 1-inch balls, and place on a baking tray lined with parchment paper. You should have about 30 balls.
Refrigerate them until firm – for about 1 hour.
Add the dark chocolate to a microwave, and heat in 30 second intervals, stirring after each one, until melted and smooth. Leave to cool for 5 minutes.
Dip each

 

Sweet Roast Pistachio Butter

 

ball into the melted dark chocolate, and place back onto the baking tray.
Allow to set in the fridge before serving.
Try our Pistachio Butter Truffle recipe using our Sweet Roast Pistachio Butter and let us know what you think! Tag us in your delicious re-creation on Instagram or Facebook! Use hashtag #nutsaboutborna to be featured!
Subscribe to our newsletter and follow us on Instagram & Facebook for more healthy recipes and product updates!
Inesa Slevaite, Marketing Executive at Borna Food
---