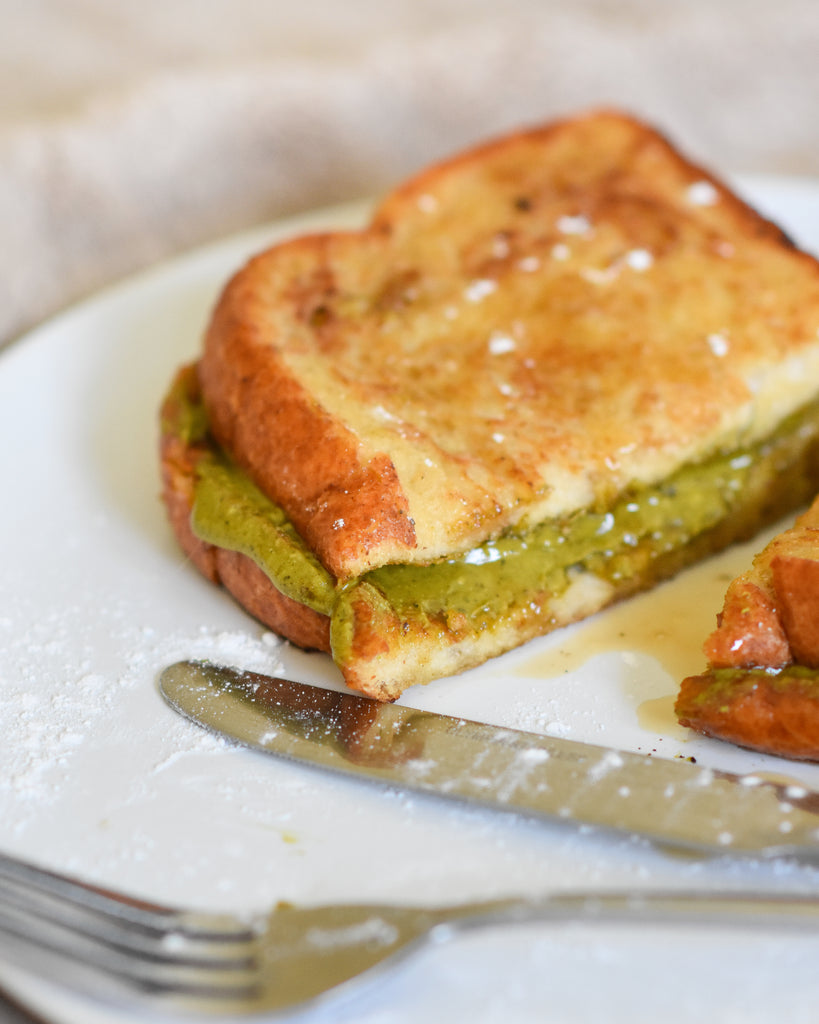 There's nothing more satisfying than pistachio butter for breakfast, lunch, and dinner. We don't care whether it's slathered on top of grilled salmon, baked inside of a cake, or blended up in a smoothie– we LOVE the flavor and versatility of our 100% Pure Smooth Pistachio Butter.
We believe that something very magical happens when pistachio butter is slathered on hot French toast.  It starts to melt and mix with the rich maple syrup that has been liberally poured over the top of the stack of a toast.
In fact, we will let you in our little secret what will make your pistachio butter stuffed french toast even better. We double dare you to use our Unsweetened Pistachio Drink instead of cow milk. Heaven in your mouth – guaranteed.  That's how we like it!
Ingredients
♥ 1 cup Lightly Sweetened Pistachio Drink
♥ 2 eggs
♥ 2 tsp vanilla extract
♥ 1 tsp ground cinnamon
♥ 1 tbsp sugar
♥ 4 thick slices of bread
♥ 6 tbsp creamy Pure 100% Pistachio Butter
♥ maple syrup
♥ powdered sugar
Instructions
Heat a frying pan over medium heat.
Whisk eggs, vanilla, cinnamon, nutmeg, and salt and mix it with

 

Unsweetened Pistachio Drink. Pour into a shallow pan or bowl that is wide enough for your bread.
Lightly oil or butter the hot pan.
Dip bread slices in egg mixture letting sit for 15-30 seconds until mixture is absorbed.
Carefully transfer to a pan, letting excess egg mixture drip off.
Cook bread on each side until golden brown.
Spread a tablespoon of

 

100% Pure Pistachio Butter

 

on each slice of bread. Serve as single slices or as a sandwich.
Drizzle with maple syrup and dust with powdered sugar if desired.
Try our Pistachio French Toast made together with Unsweetened Pistachio Drink and our 100% Pure Smooth Pistachio Butter, and let us know what you think! Tag us in your delicious re-creation on Instagram or Facebook! Use hashtag #nutsaboutborna to be featured!
Subscribe to our newsletter and follow us on Instagram & Facebook for more healthy recipes and product updates!
Inesa Slevaite, Marketing Executive at Borna Food
---