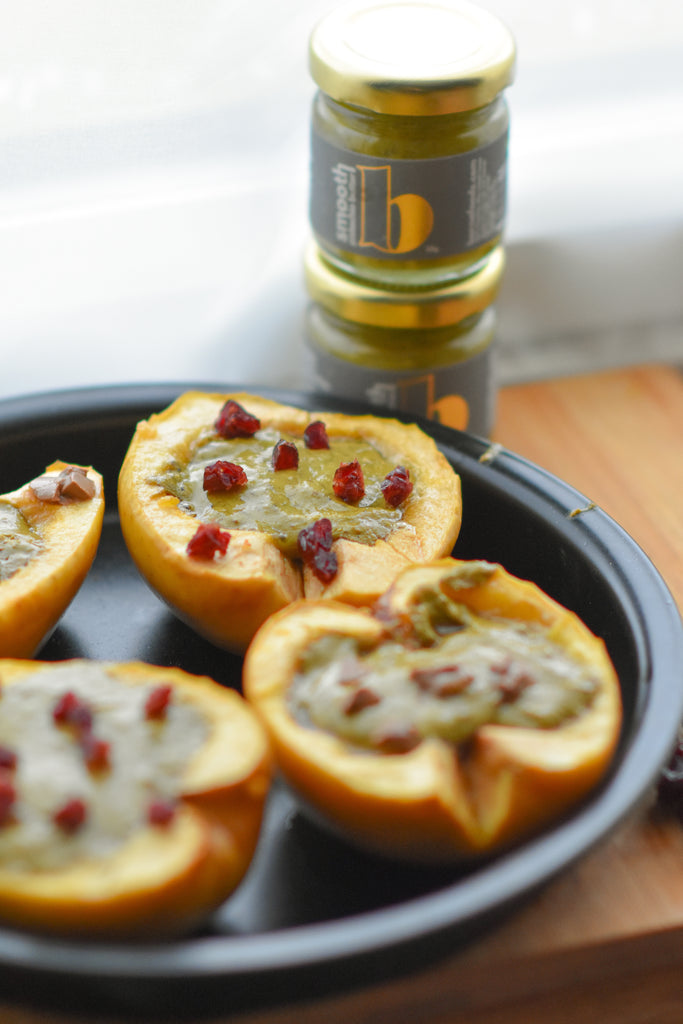 If an apple a day keeps the doctor away, imagine the possibilities of Pistachio Butter Stuffed Apples, whoah!
When you're feeling hungry mid-morning but have to barrel through your work or studies, the temptation may draw you to low-nutrient snacks in the office vending machine or at the nearby convenience store. Instead of reaching for unhealthy fare, try an apple with our Pistachio Butter, which can fill you up and keep you full until lunch. This snack provides vitamins, minerals, protein and good fats in one simple, healthful combination.
Ingredients
♥ 2 apples, halved
♥ 100g Smooth 100% Pure Pistachio Butter or any pistachio butter would work perfectly
♥ 1/4 cup raisins
♥ 3 tbsp vegan butter
Instructions
Preheat oven to 195C°. Core the apples using the melon baller.
Place apples in a shallow baking dish and brush with melted vegan butter. Bake in the oven for 15 minutes.
Remove apples from oven and add a large scoop of any

 

Pistachio Butter

 

of your choice to the well in each apple.
Bake for another 15 minutes. Garnish with some raisins, enjoy!
Try our Pistachio Butter Stuffed Apples and let us know what you think! Tag us in your delicious re-creation on Instagram or Facebook! Use hashtag #nutsaboutborna to be featured!
Subscribe to our newsletter and follow us on Instagram & Facebook for more healthy recipes and product updates!
Inesa Slevaite, Marketing Executive at Borna Food
---