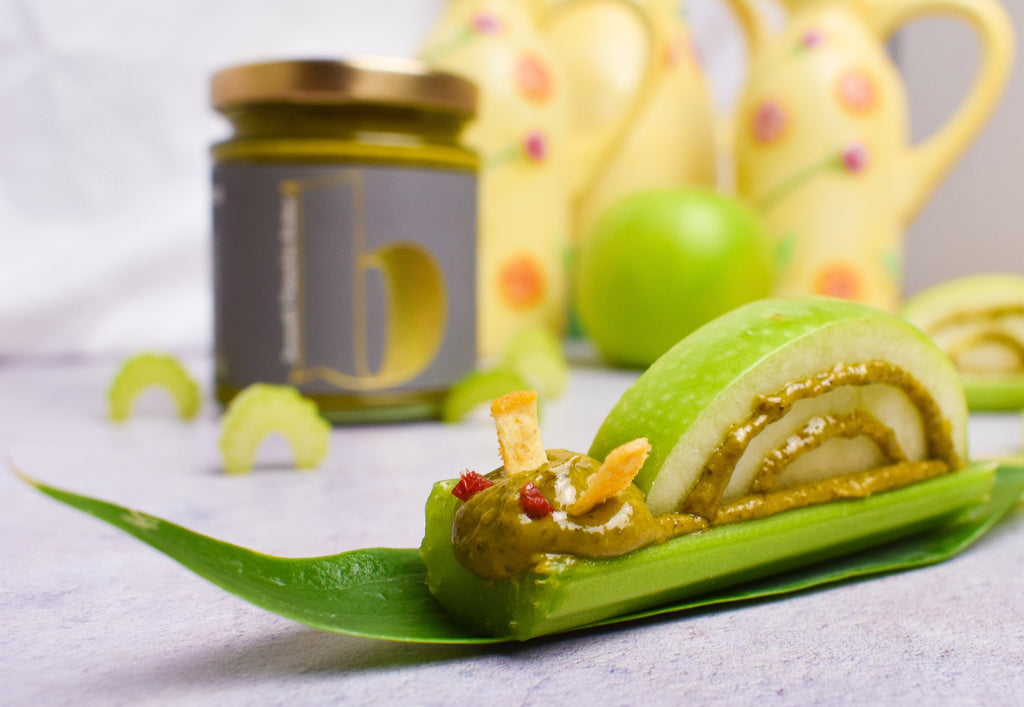 March is Veggie Month, so it's the perfect time to ditch meat and go veggie. Therefore, we want to give you a simple tip on how to make healthy eating stress-free and fun for your family.
We are so excited to share with you our simple Pistachio Butter Snails recipe which can be a perfect snack for your whole family, especially for your little ones.
Nutritional Value (per serving) |  154 Kcal |5.5g Fat | 5.2g Protein |
Ingredients

♥ 2 medium ribs celery
♥ 1/2 cup Smooth 100% Rich Pistachio Butter
♥ 3 apple rings, cut in half
♥ 4 pretzel/chip sticks, broken into thirds
♥ 12 small pieces of goji berries
Instructions:
Cut each celery rib into thirds. Fill centres with half of

 

Smooth 100% Rich Pistachio Butter. Spoon remaining

 

pistachio butter

 

into small recloseable food storage bag; snip one corner off to make a small hole.
Pipe two lines of peanut butter on one side of each apple piece, following shape of apple. Insert apple pieces into

 

pistachio butter

 

in celery pieces.
Place 2 small pieces of goji berries next to each other at one end of each piece of celery to resemble eyes. Place a pretzel/chip piece over each eye to resemble antennas.
Try our easy Pistachio Butter Snails recipe and let us know what you think! Tag us in your delicious re-creation on Instagram or Facebook! Use hashtag #nutsaboutborna to be featured!
Subscribe to our newsletter and follow us on Instagram & Facebook for more healthy recipes and product updates!
Inesa Slevaite, Marketing Executive at Borna Food
---