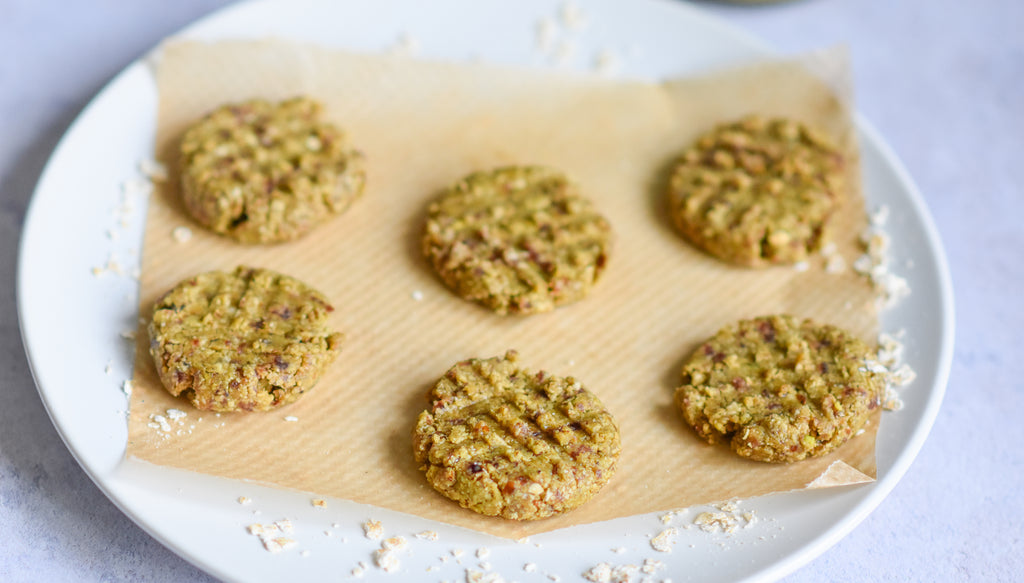 These vegan, no-bake pistachio butter oat bites made with our Seedy-Kick Pistachio Butter quickly come together in the bowl of a food processor. They're mildly sweet little bites with a texture reminiscent of pistachio butter cookie dough and full of nutritional benefits. Nonetheless, you can keep them forever. Okay, maybe not forever but 3 months would work pretty well, so it's worthy to make more than one batch!
Ingredients
♥ 1/2 cup Seedy-Kick Pistachio Butter
♥ 1 cup goji berries
♥ 3/4 cup gluten-free oats
♥ 2 tbsp maple syrup
♥ 1 tsp vanilla extract
♥ 1 tsp lemon juice
Instructions
In the bowl of a food processor, add the

 

Seedy-Kick Pistachio Butter, goji berries, rolled oats, maple syrup.
Pulse the mixture until all ingredients are finely ground and even consistency is achieved.
Add the vanilla extract and lemon juice and pulse to incorporate.
Transfer the dough to a bowl and form 1 1/2 tablespoon-sized scoops into little balls.
Gently press each cookie ball with a fork to make a cross-hatch pattern across the top.
Chill for 1 hour and serve.
Try our Pistachio Butter Oat Bites recipe made with our Seedy-Kick Pistachio Butter and let us know what you think! Tag us in your delicious re-creation on Instagram or Facebook! Use hashtag #nutsaboutborna to be featured!
Subscribe to our newsletter and follow us on Instagram & Facebook for more healthy recipes and product updates!
Inesa Slevaite, Marketing Executive at Borna Food
---