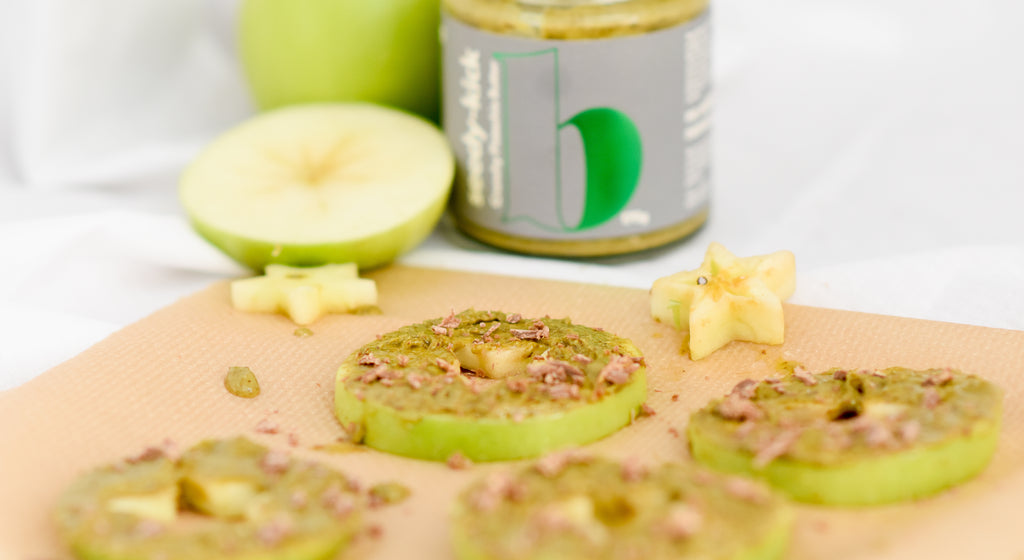 Quick and easy snacks are our favourite, especially when they are loved by the little ones. These vitamin-packed apple cookies are a simple, colourful and fun way to get kids to eat fruit. They'll love helping to make them too!
These Pistachio Butter Apple Cookies are made with our delicious and nutritious Seedy Kick butter which is loaded with carefully selected seeds for that extra depth in taste. Pistachios blended with the finest pumpkin seeds, sunflower seeds, and flax seeds to create a combo that is a tasty nutritional powerhouse for your children!
The amount of protein and fibre helps to make this snack something that will last longer than just 20 minutes.
Ingredients
♥ 2 large apples
♥ ½ cup Seedy-Kick Pistachio Butter
♥ 2 tbsp milk/dark/vegan chocolate, grated
Instructions
Using an apple corer or small paring knife, remove the core of the apple. We decided to be a little more creative this time and used star form cookie cutters.
Slice the apples into thick rings.
Spread

 

Seedy-Kick Pistachio Butter

 

onto the apple slices.
Top with the grated chocolate. You can also add some extra nuts, chocolate chips, etc. Since our Seedy-Kick Pistachio Butter is full of seeds, we decided that it can't be more perfect than this.
Try our Seedy-Kick Pistachio Butter Apple Cookies recipe and let us know what you think! Tag us in your delicious re-creation on Instagram or Facebook! Use hashtag #nutsaboutborna to be featured!
Subscribe to our newsletter and follow us on Instagram & Facebook for more healthy recipes and product updates!
Inesa Slevaite, Marketing Executive at Borna Food
---