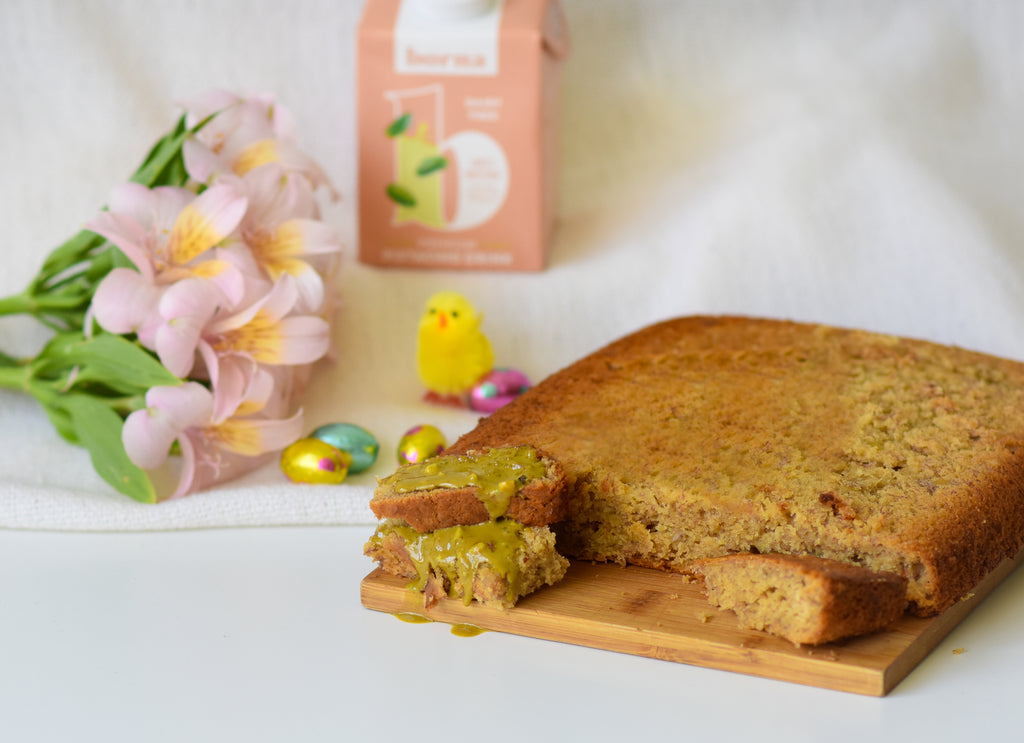 Easter is the perfect time to get creative in the kitchen, whether you're baking a delicious Easter Cake, vegan chocolate eggs or a simple pistachio banana bread.
Our Easter Pistachio Banana Bread recipe will definitely wow your friends and family at every egg hunt this season.
Ingredients:
80 ml

 

Lightly Sweetened Pistachio Drink
2 cups all purpose flour
1 tsp baking powder
2 sticks unsalted vegan butter
3/4 brown sugar
4 ripe bananas
1 tsp vanilla extract
a pinch of salt
optional: you can add 2 eggs in a batter
Instructions:
Preheat the oven to 180°C. Grease a pan or coat with nonstick spray. Set aside.
Combine all dry ingredients together: whisk the flour, baking soda and salt together in a large bowl.
Using a mixer, beat the butter and brown sugar together on high speed for about 2 minutes. Until smooth and creamy.
Add the eggs one at a time, beating well after each addition. Beat in the

 

Lightly Sweetened Pistachio Drink, mashed bananas, and vanilla extract until combined.
Slowly beat the dry ingredients into the wet ingredients until no flour pockets remain. Do not overmix. Fold in some pistachios, if using.
Spoon the batter into the prepared baking pan and bake for 60-65 minutes.
Check the batter. A toothpick inserted in the center of the loaf will come out clean when the bread is done.
Remove from the oven and allow the bread to cool completely in the pan set on a wire rack.
Put some pistachio butter on top of your banana bread for the full experience.
Try our Pistachio Banana Bread recipe using our Lightly Sweetened Pistachio Drink and let us know what you think! Tag us in your delicious re-creation on Instagram or Facebook! Use hashtag #nutsaboutborna to be featured!
Subscribe to our newsletter and follow us on Instagram & Facebook for more healthy recipes and product updates!
Inesa Slevaite, Marketing Executive at Borna Food
---