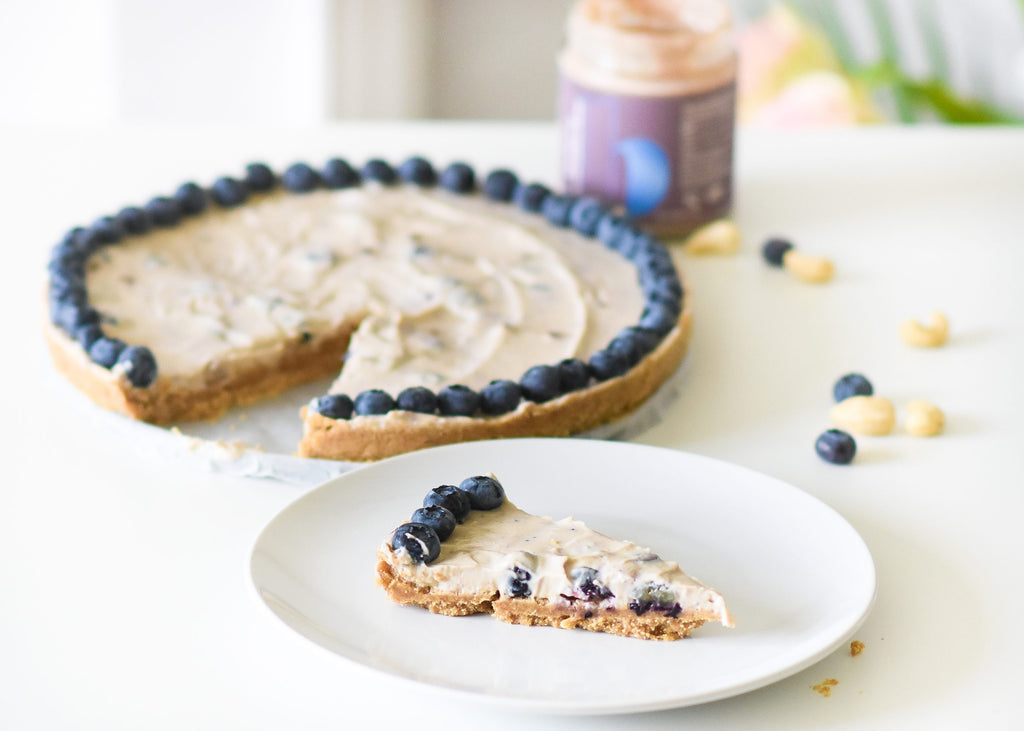 Today is Mother's Day and it's a chance to show our mums (and mother figures) just how much they mean to us – especially right now when a lot of us haven't been able to see our mums properly for a long time.
This No-Bake Blueberry Cashew Cheesecake is a beautiful and easy-to-make vegan cheesecake made using our delicious Blueberry Cashew Butter! The cheesecake layer is lusciously smooth and creamy with a tart, fruity topping.
Directions
Grease a 6" springform pan with coconut oil, or line an 6" cake pan with strips of parchment paper for easy removal, and grease well with coconut oil. Set aside.
Add the whole cashew nuts, digestive biscuits, coconut oil, and salt to a food processor or high-powered blender and pulverise until it comes together into a sort of sticky dough, with small cashew bits remaining. Don't over process, or it'll turn into nut butter! Press the dough evenly along the bottom of the prepared pan.
In the same food processor or high-powered blender combine all of the filling ingredients except for the blueberries and blend for about 2 minutes, or until the mixture is silky smooth and creamy. Scrape down the sides as necessary. You may need to add a bit more coconut milk or lemon juice to get it to blend smoothly if your blender isn't super high-powered.
Once it's smooth, taste the mixture and adjust the sweetness/tartness levels by adding more maple syrup, vanilla, or lemon juice, if desired.
Pour the filling into the prepared pan over the crust. Add the blueberries to the remaining batter and blend to incorporate. Smooth out the top and tap the pan hard against the counter a few times to release any air bubbles. Place in the freezer.
Leave it to set for at least 3 hours or until completely firm before slicing and serving. We recommend running your knife under hot water to warm it up before cutting the cheesecake with the still-hot (dried) knife.
Serve frozen or let them thaw at room temperature for 10-15 minutes before serving. Store in the freezer for up to 2 weeks.
Ingredients
½ cup whole cashew nuts
3 tablespoons coconut oil
¼ teaspoon kosher salt a pack of vegan digestive biscuits half a jar of blueberry cashew butter
½ cup canned coconut milk, shaken
¼ cup coconut oil
⅓ cup pure maple syrup
2 tablespoons fresh lemon juice
1 tablespoon vanilla extract
¼ cup blueberries
Try this extremely easy No-Bake Blueberry Cashew Cheesecake - Happy Mother's Day! recipe using our , and let us know what you think! Tag us in your delicious re-creation on Instagram or Facebook! Use hashtag #nutsaboutborna to be featured!
Subscribe to our newsletter and follow us on Instagram & Facebook for more healthy recipes and product updates!