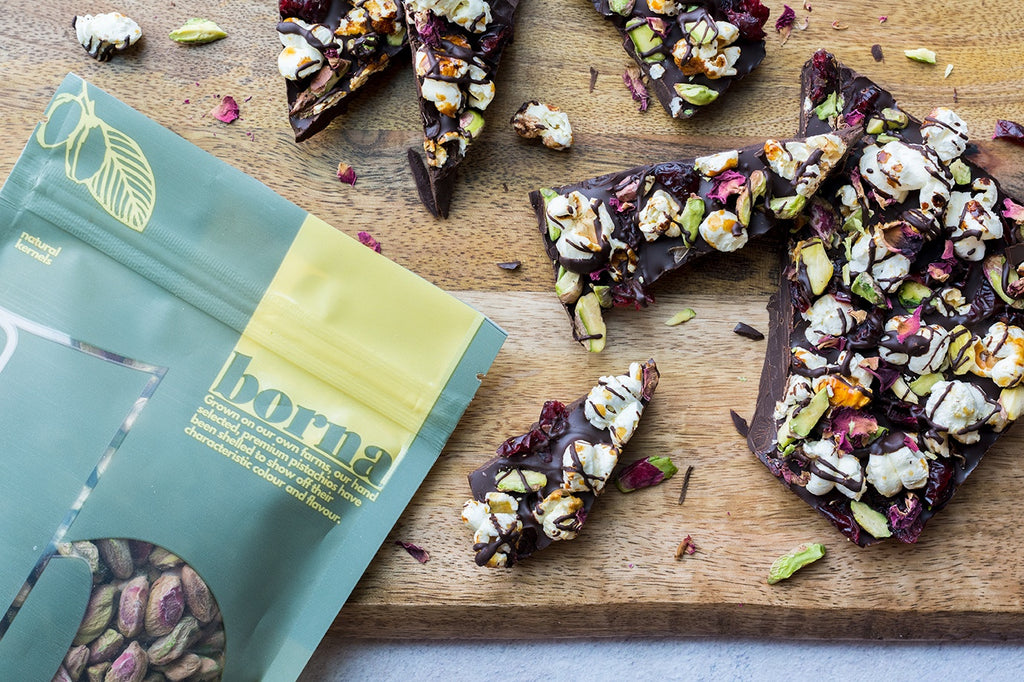 Mother's Day, the day for mothers to pop their feet up and get treated like the queen they are. I've always loved making something for my mum on Mother's Day as she can really see I've put my heart and soul into what I've created for her. This chocolate slab is full of flavour, crunch, texture and looks beautiful! Wrap the slab in baking sheet paper with a pretty ribbon to keep it fresh.
Ingredients:
200g Dark chocolate (broken into pieces)
5g Popcorn (unpopped)
1 tsp Coconut oil
1 tsp Agave syrup
5g Dried cranberries
15g Borna Natural Pistachio Kernels (roughly chopped)
2 tsp Dried rose petals
Directions:
♥ Add the coconut oil & agave to a pan and put on a medium heat
♥ Pour the popcorn kernels into the pan and mix together with the oil and agave. Place the lid on the pan and wait…I know how tempting it can be to lift that lid, but don't! The heat will escape and it will take longer for the popcorn to pop
♥ Leave the popcorn for roughly 3 mins, but if you can still hear the popcorn popping then leave for a little longer. Put the popcorn in a bowl to help it cool. Put to one side
♥ Place the chocolate in a glass bowl. Then Add about 2 inches of boiling water to a pan on a low heat and add the bowl with the chocolate in the pan (ensuring the water does not pour or splash into the chocolate)
♥ Stir the chocolate continuously until completely smooth. Remove from the heat
♥ Line a baking dish (Roughly 17.5cm x 11cm in size) with cling film to create a mould. Pour the chocolate into the mould, leaving a little to drizzle on the top and some for you to wipe out with your finger…yum! Pop it in the fridge for 2 mins to help it cool a little
♥ Once slightly cooled add the popcorn, cranberries, pistachio kernels and rose petals to the top of the still melted chocolate. Make sure that everything you sprinkle on touches the chocolate otherwise it will fall off!
♥ With a spoon drizzle the leftover chocolate over the top then the slab and then eat the rest
♥ Cool in the fridge for 5 hours, make sure it is fully set before taking it out the mould. Before wrapping it up make sure you remove the cling film
Disclaimer: We're not responsible if your mum gives you too many hugs and kisses because of the chocolate gift. Take a look at our shop for our delicious range of pistachio products. Don't forget to tag us with your creations using our hashtag #nutsaboutborna
Emma Langston, Content Writer at Borna Foods
---