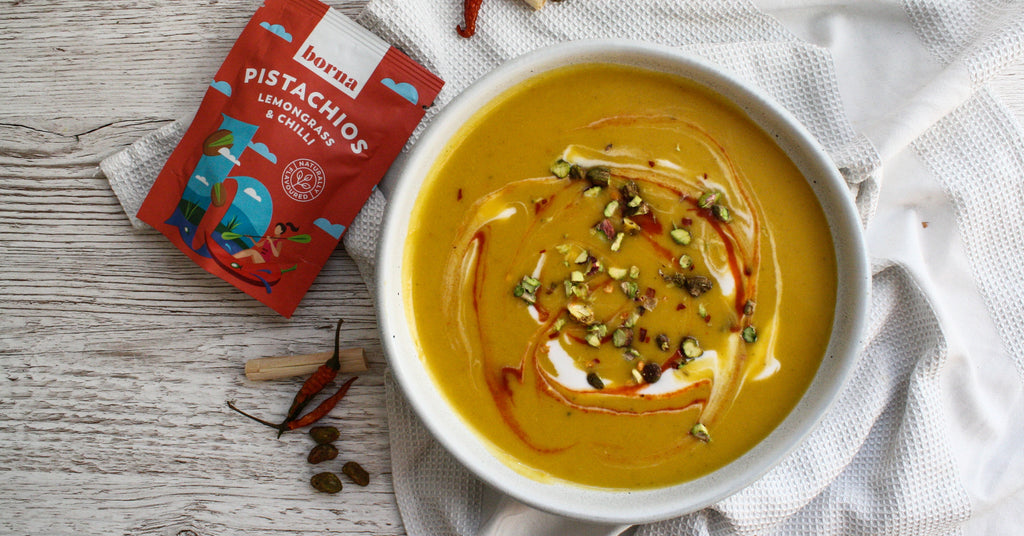 Warm up to a bowl of this fragrant, warming Butternut Squash Soup full of lemongrass flavour, and topped with uniquely delicious Lemongrass & Chilli Flavoured Kernels and our Signature Crunchy 100% Pure Pistachio Butter. This soup will make you fall in love with cooler temperatures!
6-8 servings
Ingredients:
♥ 2 Cloves Garlic, minced
♥ 1 Tbsp Fresh Ginger, minced
♥ 2 Tbsp Coconut Oil
♥ 1 Medium White Onion, Chopped
♥ 1 Medium Butternut Squash, Peeled, de-seeded and Cubed (about 4 cups)
♥ 2 Large Carrots, Chopped
♥ 1 tsp Lemongrass Powder
♥ Pinch Chilli Powder
♥ 6 c. Veggie stock
♥ 1 can Coconut Milk
♥ 1 Bay Leaf
♥ 1 Bag Lemongrass & Chilli Flavoured Kernels
♥ 2-4 Tbsp Crunchy 100% Pure Pistachio Butter 
Instructions:
♥ In a large pot, melt coconut oil over medium heat. Add garlic, ginger and onion, cooking until fragrant. Add butternut squash and carrots, cooking until squash begins to soften (about 20 minutes).
♥  Add Lemongrass powder and chilli, stirring to evenly distribute. Add veggie stock and bay leaf, bring to a boil, and let simmer for 20 minutes, or until squash is very soft.
♥ Using a hand blender or counter-top blender, blend until smooth and creamy (watch out! It's hot!)
♥ Add coconut milk, and simmer over medium-low heat for about 5-10 minutes.
♥ Serve topped with Lemongrass & Chilli Kernels, and drizzle with Crunchy Pistachio Butter
If you try this warming soup, or if it inspires you to add pistachios to your favourite recipe, share using the hashtag  #nutsaboutborna when posting on Instagram.
Micah Siva, Content Writer at Borna Foods
---