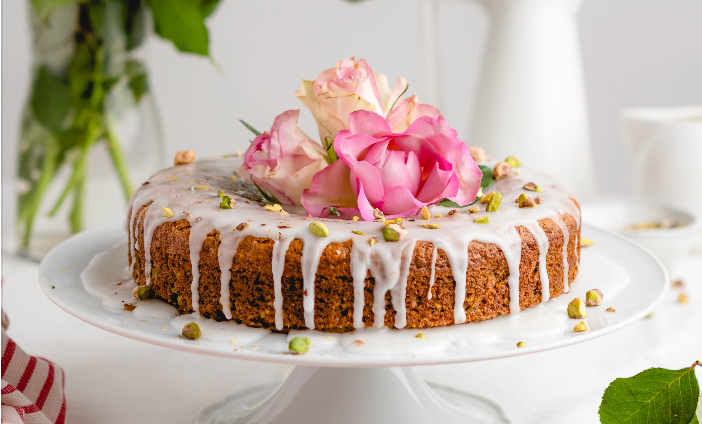 When life gives you lemons... make a lemon pistachio cake! Servings 8 this is perfect for when family come over with prep time being 25 minutes and a total cooking time just 1 hour you wont regret making this delicious recipe. 
This is a really nice way to get the family involved when decorating the cake you can make it look as nice as you wish.
Directions
1. Preheat the oven to 170ºC and line springform cake tin (18cm) with parchment paper.
2. In a bowl whisk the vegetable oil, pistachio milk, pistachio butter, lemon juice and caster sugar until combined.
3. In a separate bowl mix flour, baking powder, baking soda, ground pistachios, and lemon zest.
4. Add the flour mixture into the wet ingredients and mix until just combined.
5. Pour the batter into prepared springform cake tin and bake for 45-50 minutes.
6. In the meantime, prepare the glaze by whisking the sugar with lemon juice.
7. Pour the glaze over the cooled cake and decorate with pistachios, flowers and lemon slices.
Ingredients
Cake:
90 ml vegetable oil
200 ml pistachio milk
150 g caster sugar
2 tbsp pistachio butter
2 tbsp lemon juice
1 ½ tsp baking powder
1 tsp baking soda
200 g pistachios (ground)
150 g all-purpose flour
1 tsp lemon zest
Glaze:
100g powder sugar
2-3 tbsp lemon juice
Try this extremely easy Lemon pistachio cake recipe using our Natural Kernels Retail Packs, and let us know what you think! Tag us in your delicious re-creation on Instagram or Facebook! Use hashtag #nutsaboutborna to be featured!
Subscribe to our newsletter and follow us on Instagram & Facebook for more healthy recipes and product updates!