Home-made Doughnuts Topped with Crushed Pistachio Kernels – Happy International Women's Day!
---
Mar 08, 19
|
Dinner
Pistachios
Recipe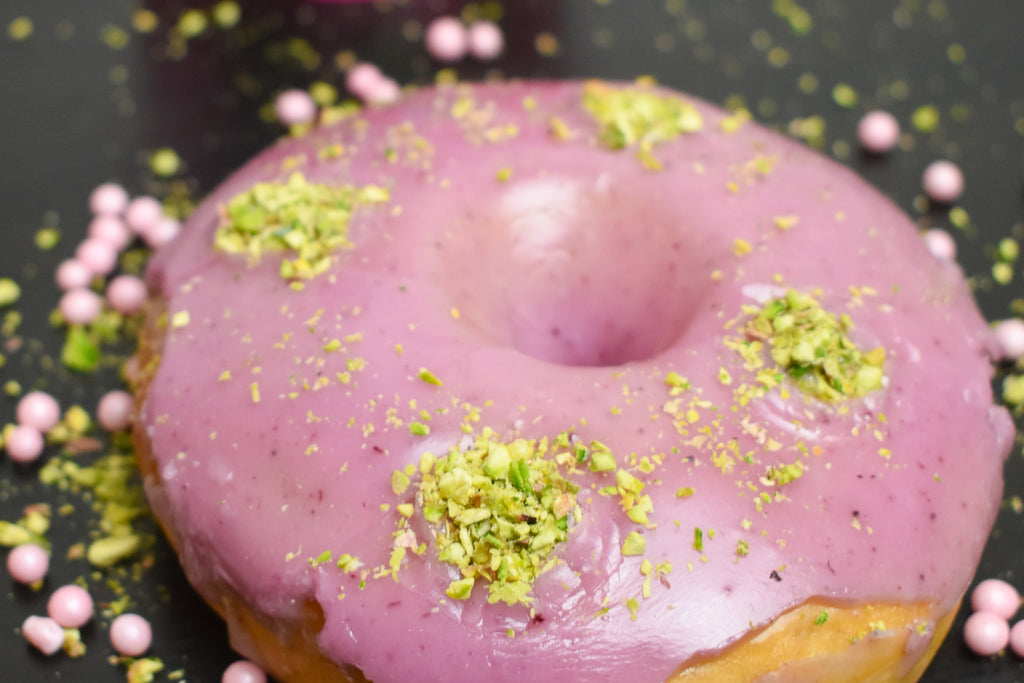 Happy International Women's Day everyone! This amazing day, which empowers women, we decided to make best women's friends – DOUGHNUTS – topped with our delicioussss crushed kernels! Doughnut making is quite a bit of work and the recipe takes a while to make – but the final piece will make you and your lady friends soooo happy! Therefore, we suggest you think of doughnut making as party time. It's a lot of fun and fresh doughnuts are one of those things no one can say no to. You and every girl around you are going to love these – we promise!
Nutritional Value (per serving) | 250 Kcal |12g Fat | 3g Protein | 7g Fibre |15g sugar |
Ingredients
For dough:
♥ 2 cups milk, warm
♥ 1/4 cup vegan sugar
♥ 2 tsp instant or active dry yeast
♥ 2 whole large eggs, lightly beaten
♥ 10 tbps unsalted butter, melted
♥ 4 cups all-purpose flour
♥ 1/2 tsp kosher salt
♥ oil for frying
♥ ¼ tsp pure almond extract
For glaze:
♥ 4 tbsp salted butter, melted
♥ 1 tsp vanilla
♥ 3 cups powdered sugar
♥ red food colouring
♥ ½ cup milk to make a thin icing
♥ 1 tbsp crushed natural kernels, yummy
Instructions
Dough:
Warm up the milk. Add the milk to a mixing bowl or the bowl of your stand mixer. Add the sugar and stir to dissolve. Add the yeast and stir to combine. Let the yeast rest for 5 minutes.
Add the beaten eggs and melted butter to the bowl and stir to combine.
Add the flour and salt and mix until the dough comes together. Turn off the bowl and let the dough rest.
After the rest period turn the dough out into a lightly oiled bowl, cover the bowl with plastic wrap and refrigerate the dough for at least 8 hours up to overnight.
Doughnuts:
Remove the dough from the fridge and roll it out on a lightly floured surface until it is 1/2 to 1/3 of an inch thick. Use a three-inch doughnut cutter to cut out the doughnuts.
Place the cut doughnuts and holes on a lightly greased baking sheet.
Repeat with the remaining dough.
Cover the doughnuts and let them rise for about one hour – until it doubles the size, they have to be puffy and airy looking.
Frying:


Heat a few inches of oil or shortening in a large cast iron skillet or fryer over medium heat.
Carefully

 

add the doughnuts to the hot oil and fry until golden brown, about 1 1/2 minutes per side. The doughnut holes will only take about 30 seconds per side.
Use a slotted spoon to remove the doughnuts from the hot oil and place them on a paper towel-lined baking sheet to remove extra grease. Dip the hot doughnuts in the glaze.
Topping:
Whisk all the ingredients in a medium bowl and mix until smooth. Add just enough milk to make a thin icing. Once the doughnuts are dipped halfway in the icing take them out, turn them icing side up, and place them on a cooling rack – let the glaze set.
Crush some natural pistachio kernels and sprinkle them on doughnuts.
Try our delicious home-made doughnuts topped with our crushed natural kernels recipe and let us know what you think! Tag us in your delicious re-creation on Instagram or Facebook! Use hashtag #nutsaboutborna to be featured!
Subscribe to our newsletter and follow us on Instagram & Facebook for more healthy recipes and product updates!
Inesa Slevaite, Marketing Executive at Borna Food
---